WWII Citations
*CLICK ON THUMBNAIL OR ITEM NAME TO VIEW FULL DESCRIPTION AND PHOTOS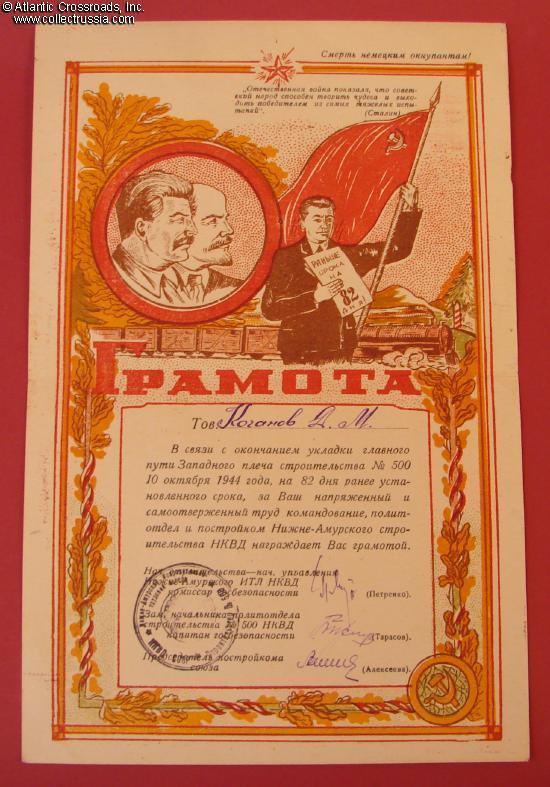 Honorary Certificate issued in October 1944 by an NKVD Correctional Labor Camp. Awarded for completing the assignment - laying a part of the main track of the Baikal-Amur Railroad - 82 days ahead of schedule. Unusual and colorful artwork features portraits of Stalin and Lenin and a railway train speeding through the forest.
$250.00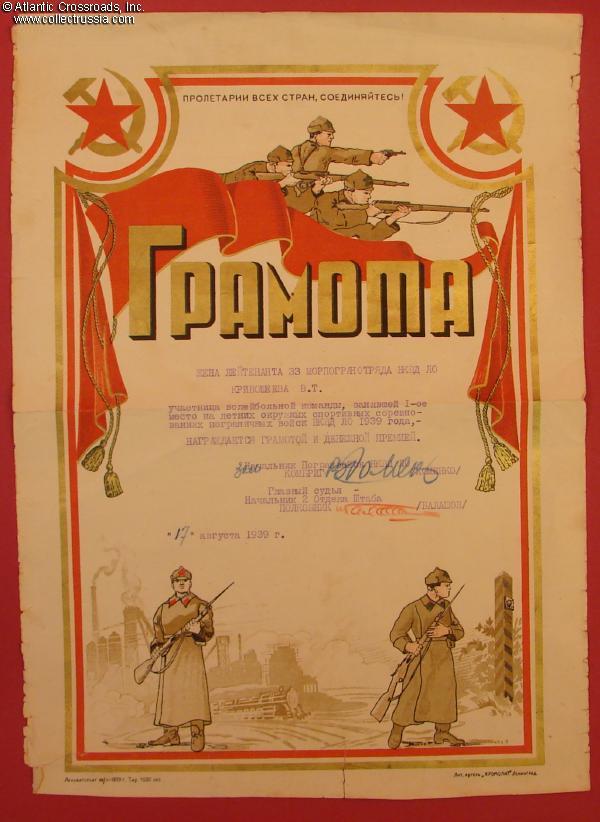 Honorary Certificate issued in August 1939 to the wife of an NKVD Naval Border Guard officer in Leningrad Region. She was given the certificate and a monetary reward for winning first prize in NKVD sports competition. Nice artwork specifically designed for NKVD: shows NKVD Internal Army trooper guarding the industrial installations and NKVD Border Guard on patrol near a border marker. In very good condition.
$395.00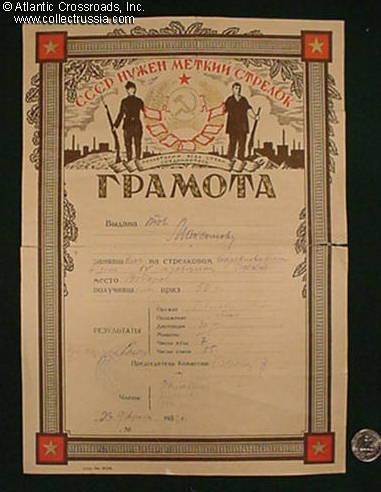 Citation for winning 2nd prize in revolver shooting competition, dated 23 February 1933.
$70.00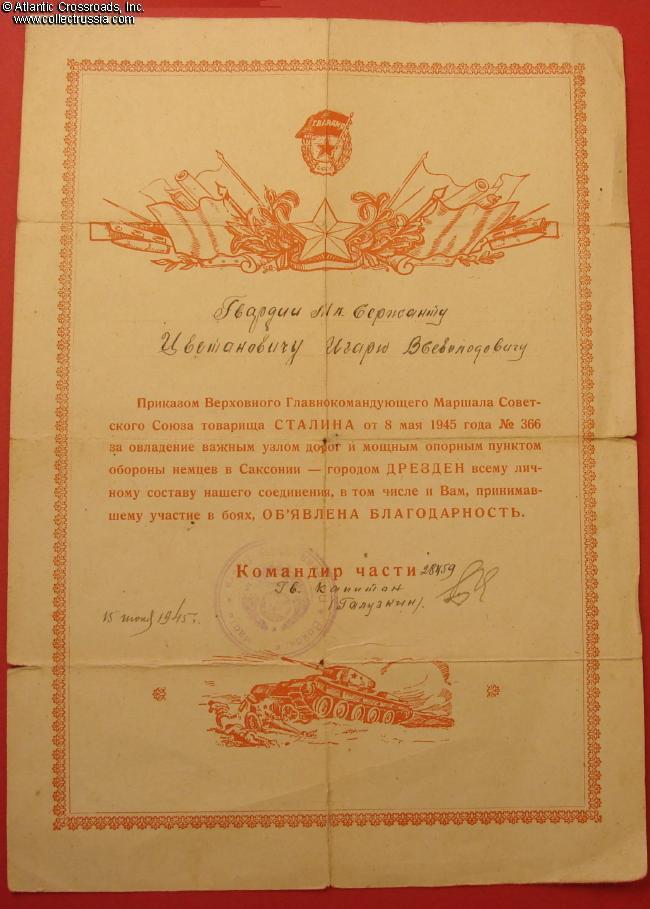 Unit Citation for Participation in the Capture of Dresden. Issued in June 1945 to a Guards Sergeant of an illustrious Guards rifle brigade in 7th Guards Tank Corps. Nice artwork depicting Soviet tank smashing a Nazi artillery piece with its tracks. Hand-signed by the unit commander. In very good condition.
$80.00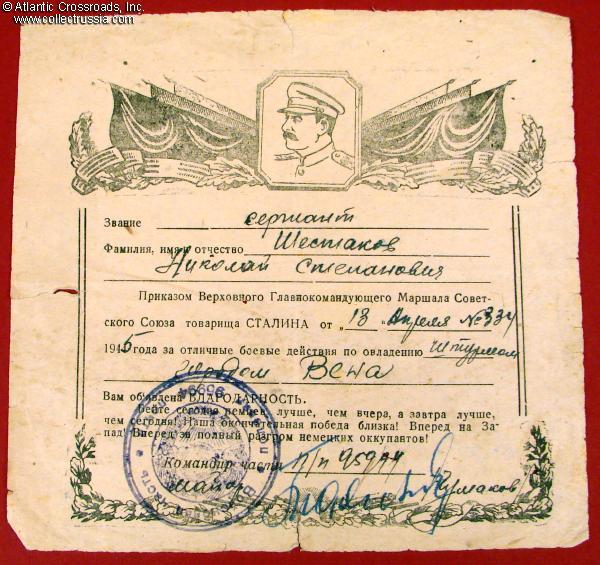 Unit Citation to a sergeant for valor during the capture of Vienna Unusual "square" format.
$44.00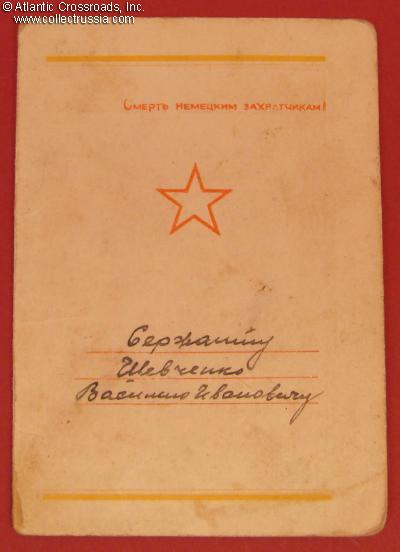 Citation to a Sergeant for taking part in the destruction of the German armor southwest of Budapest in March 1945 (breaking the last German offensive of the war on Lake Balaton). Uncommon booklet type certificate, in very good condition.
$75.00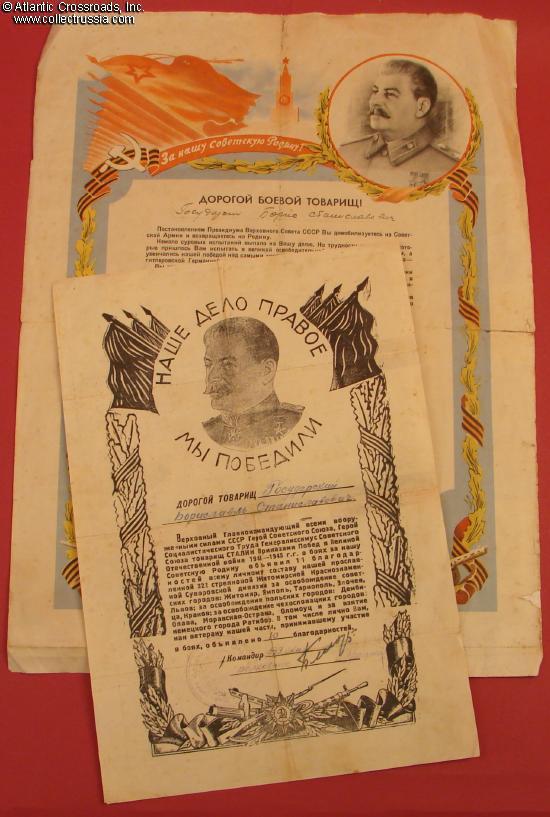 Lot of 2 Documents to a serviceman of 332nd Rifle Division. Includes a large, colorful retirement greeting issued on behalf of Marshal Sokolovsky, commander of the Soviet Army of Occupation in Germany, and a "cumulative" unit citation stating that the recipient participated in 10 battles in which his unit earned an honorary mentioning in Stalin decrees.
$125.00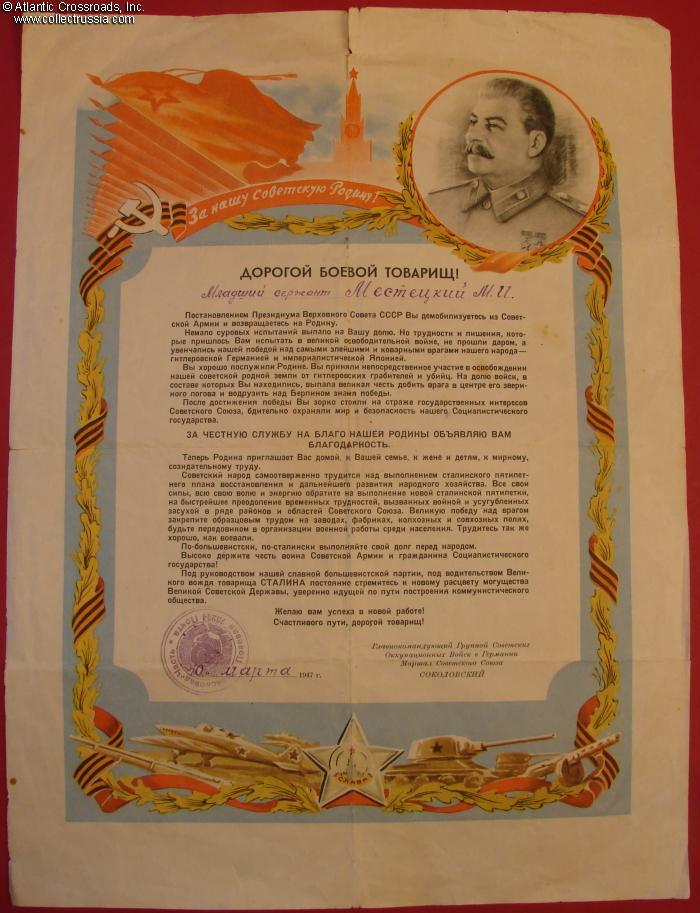 Honorary Discharge certificate issued to a sergeant of the Soviet Army of Occupation in Germany, March 1947. Large 11½" x 16½" format. Features portrait of Stalin and very attractive artwork with Kremlin, Il-2 Shturmovik airplanes, T-34 tanks and Order of Glory. Very good to excellent condition.
$75.00