Soviet ART and Presentation Items
*CLICK ON THUMBNAIL OR ITEM NAME TO VIEW FULL DESCRIPTION AND PHOTOS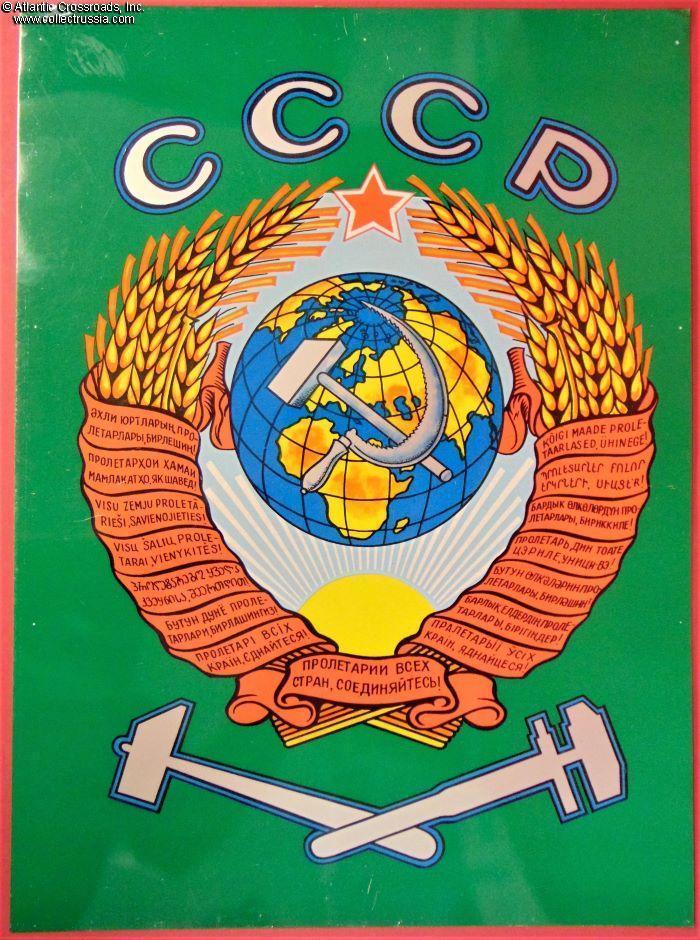 Big Soviet State Emblem for Railway Passenger Car Made in DDR, 1980s. In very good condition.
$120.00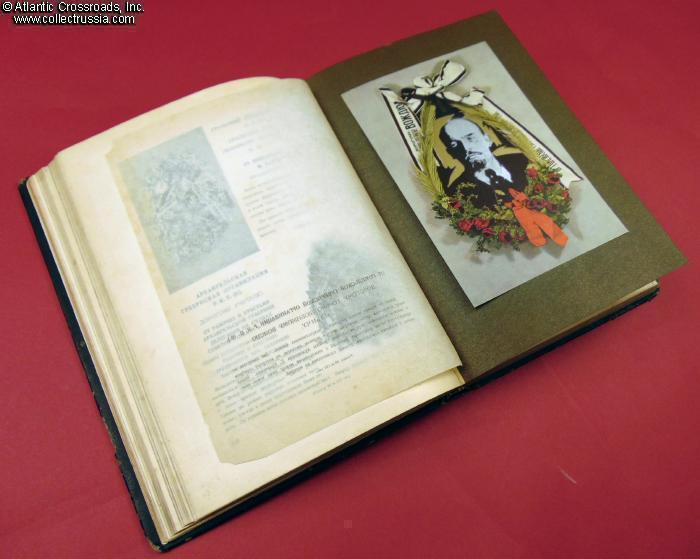 To Lenin, January 21, 1924; a unique publication which compiles hundreds of photos, reproductions and descriptions of wreaths, banners, flags, posters, boards etc. laid to Lenin's coffin as he laid in state. A rare find for a true collector!
Massive tome, 519 pp.
$950.00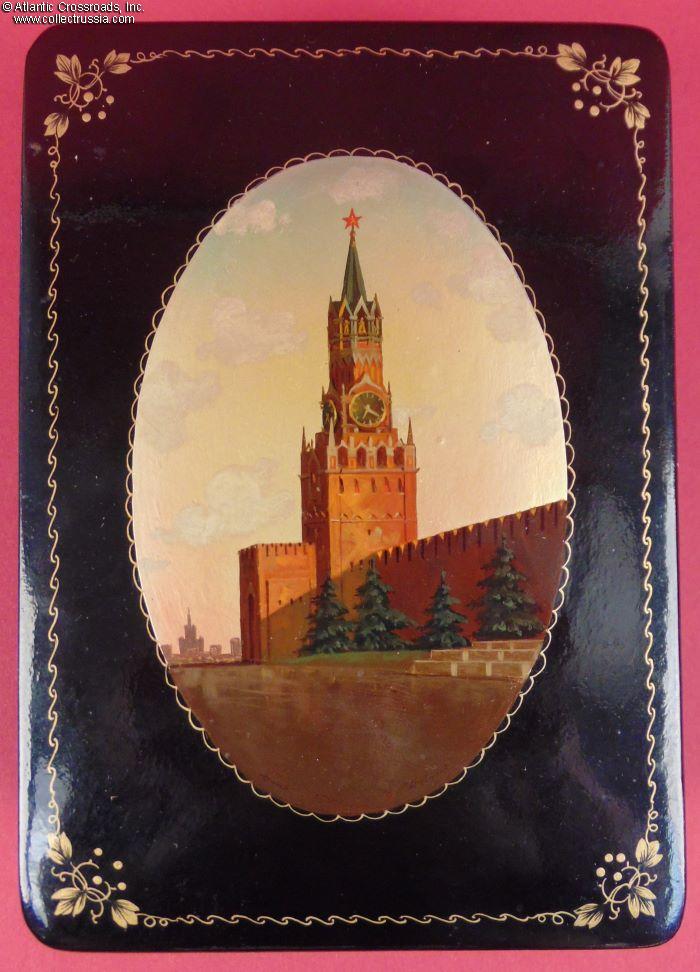 Hand-Painted Fedoskino Lacquer Box with a view of Moscow Kremlin, Artist Signed & Dated, 1968. Comes with original Storage Box. The lacquer box is in excellent condition.
$190.00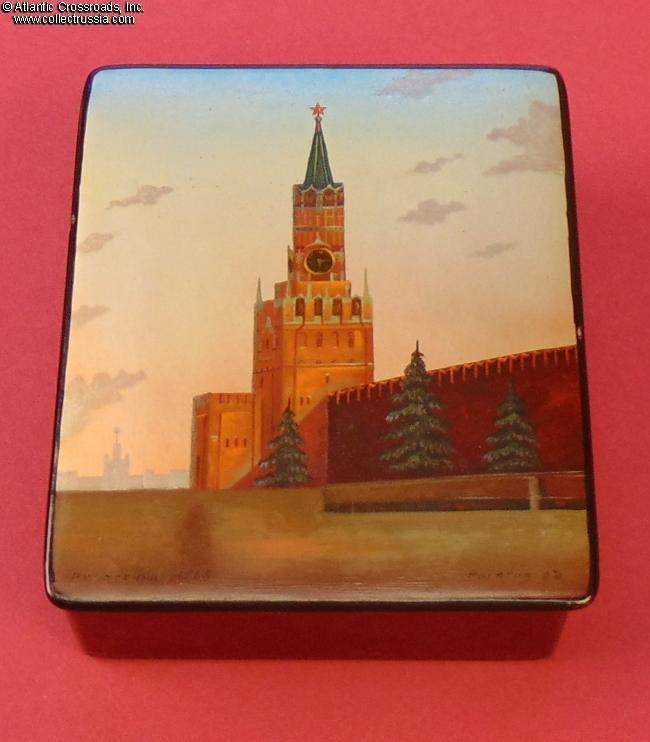 Lacquer Box with a view of Moscow Kremlin, by the Fedoskino artist V. P. Rogatov, signed and dated 1968. The image of the Spasskaya clock tower at dawn, a favorite subject of Soviet lacquer artists, is of stunning artistic quality - far above what we normally see on similar boxes. This hand-painted piece of Socialist Realism art is a true gem!
$350.00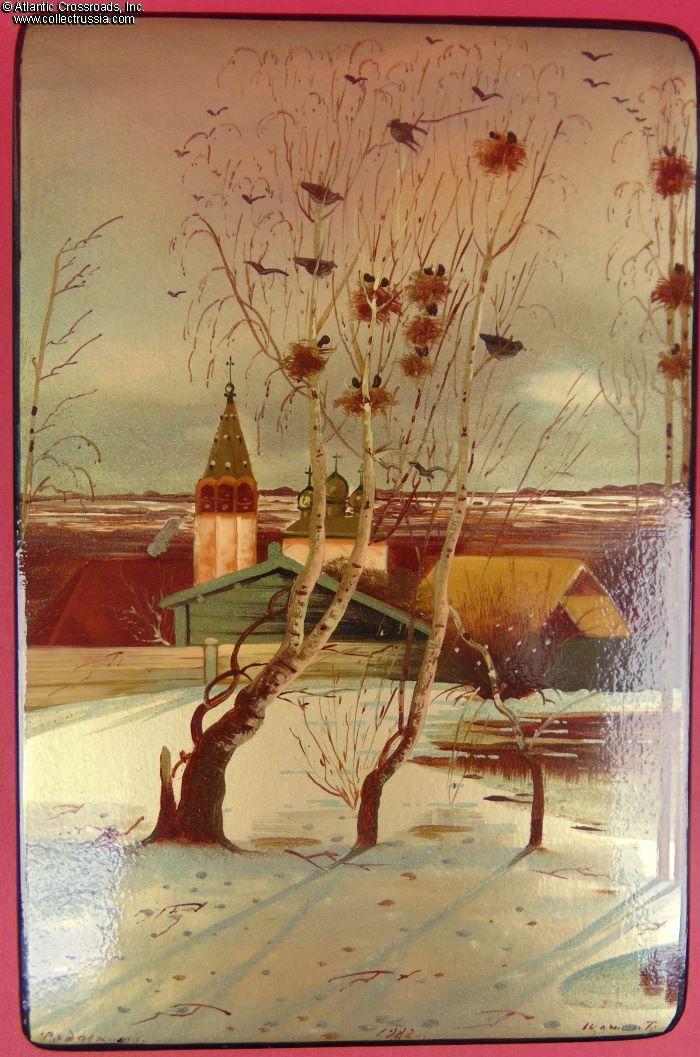 Fedoskino Lacquer Box with The Rooks Are Back, hand-painted miniature of the famous 1871 painting by A. Savrasov, an icon of Russian landscape painting. Stunning artistic quality! In original issue box. Signed & dated, 1982.
$125.00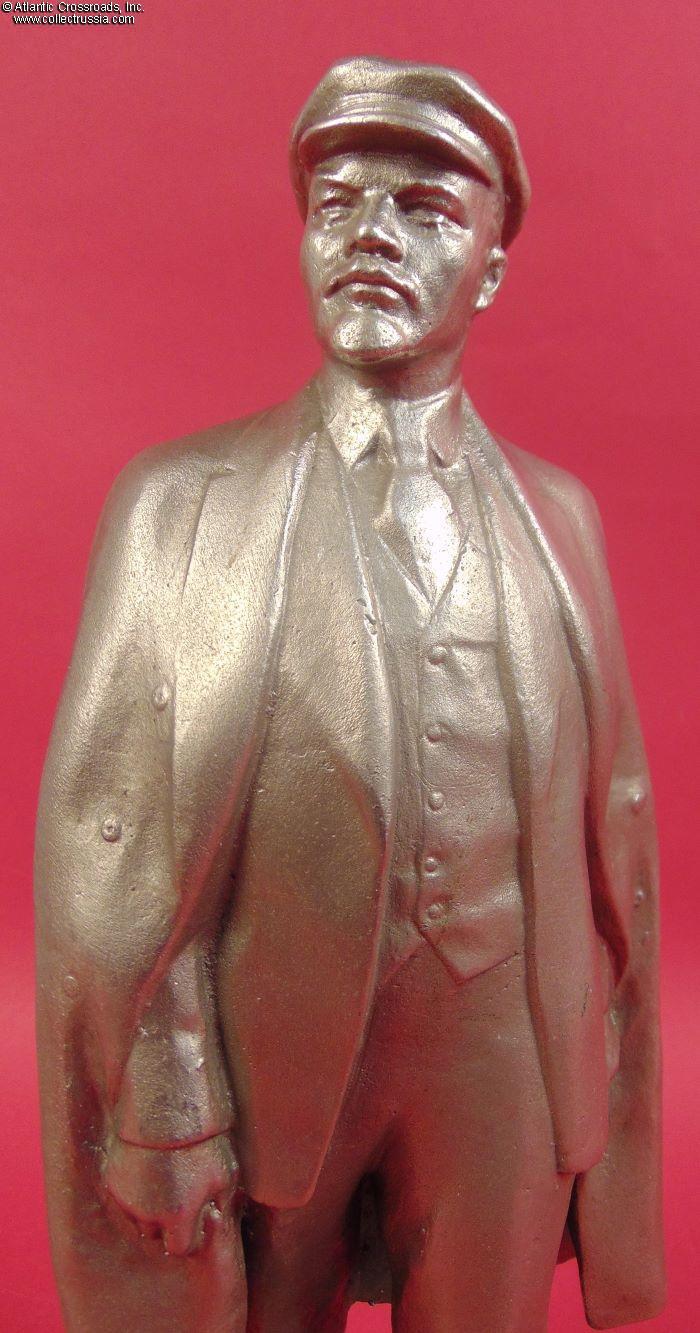 Lenin walking at a measured pace, statue in Silumin, with engraved gift inscription, c. 1970s. In superb condition.
$150.00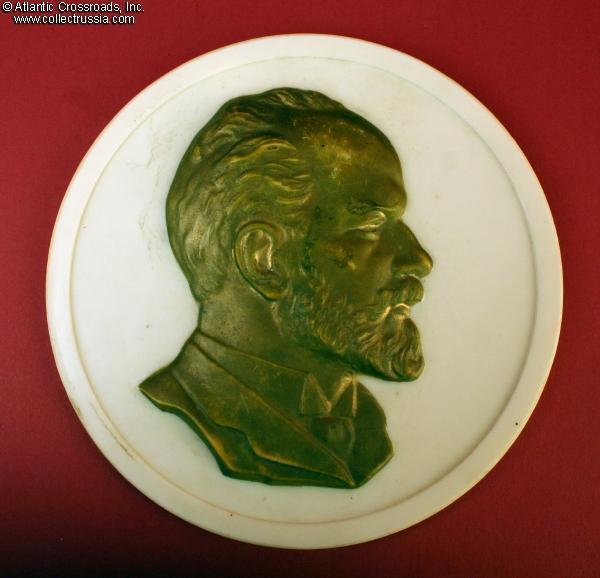 Award plaque with simulated bronze profile of Pyotr Ilyich Tchaikovsky, famous Russian composer of The Nutcracker, Swan Lake and The 1812 Overture.
$65.00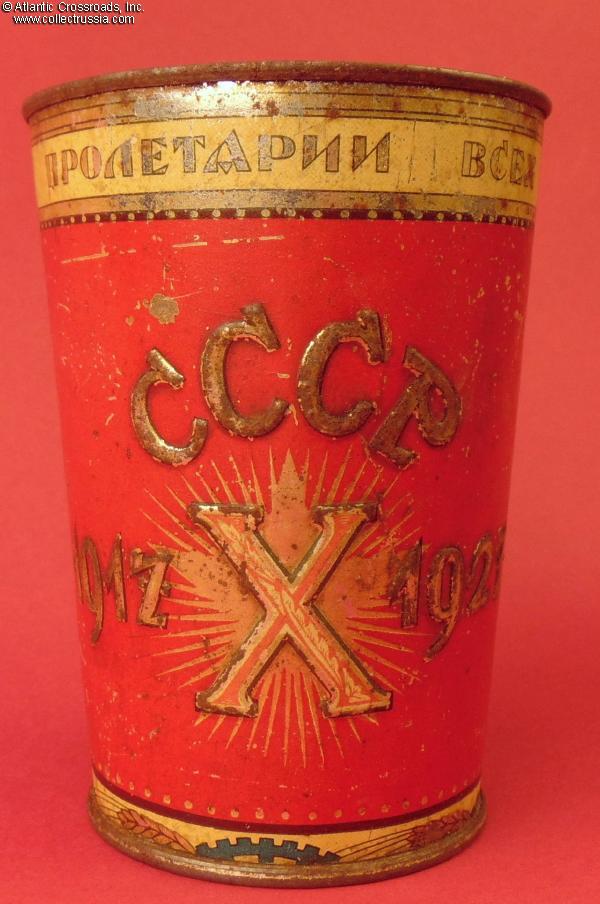 Goblet Commemorating the 10th Anniversary of the October Revolution, 1927. Lithographed and embossed tin. A vivid example of early Soviet propaganda art. In very good condition, among the best examples we have seen.
$375.00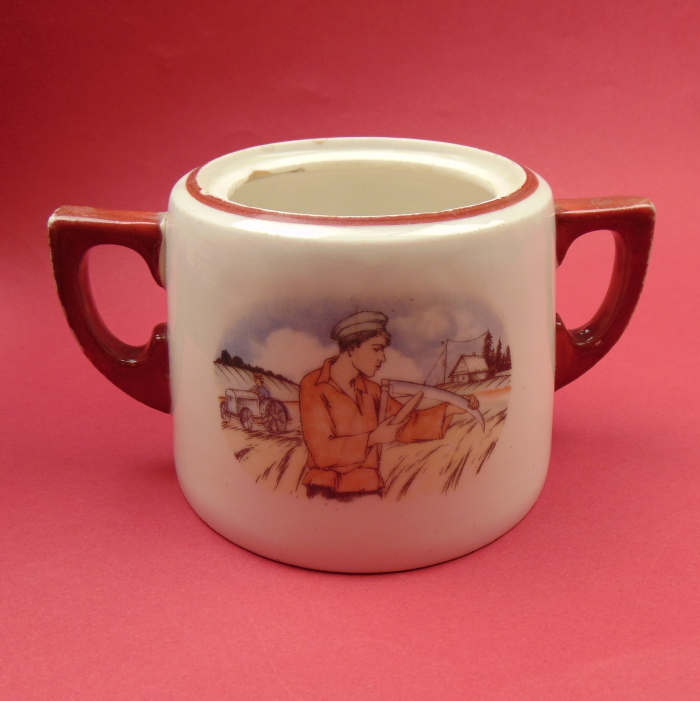 Sugar Bowl "Harvest", Dulevo Porcelain Factory, 1927-1930. Early issue with the rare "Newspaper Pravda Factory, Dulevo" maker mark. A superb piece of early Soviet propaganda porcelain from the collectivization period. Missing the lid, otherwise in very good condition.
$650.00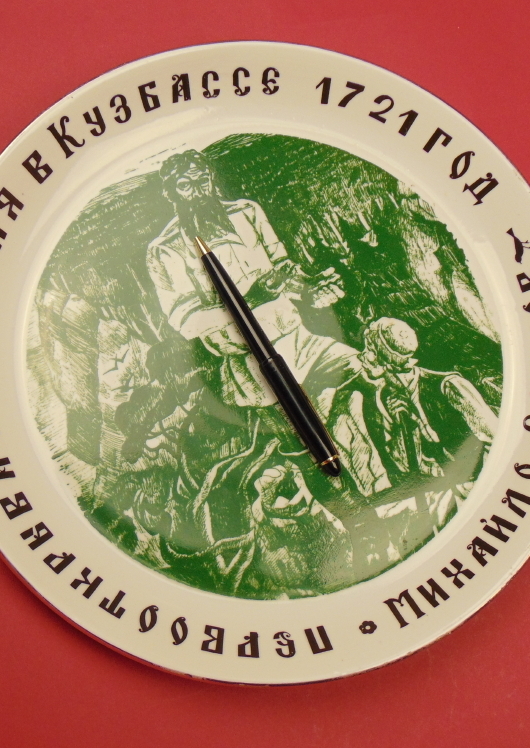 Large Decorative Porcelain Plate in Commemoration of Mikhailo Volkov, the discoverer of coal in the Kuznetsk Basin (Kuzbass), Siberia. A very unique and impressive 12"-piece by the uncommon Prokopyevskiy Porcelain Factory, circa late 1970s - late 80s. Excellent condition.
$240.00