Soviet ART and Presentation Items
*CLICK ON THUMBNAIL OR ITEM NAME TO VIEW FULL DESCRIPTION AND PHOTOS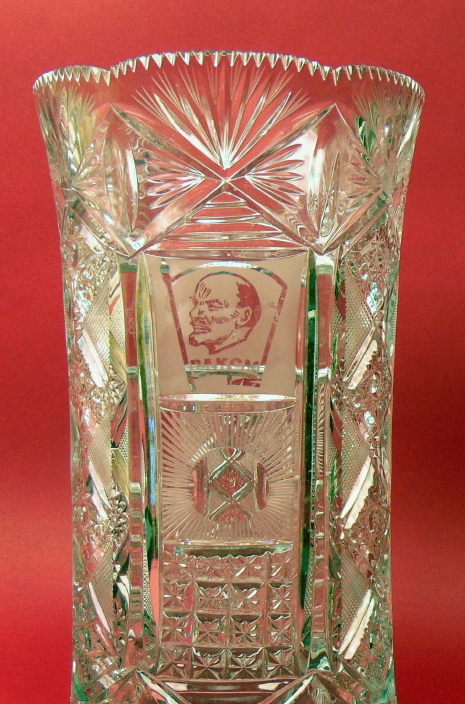 Huge and Magnificent Flower Vase in Cut Glass Lead Crystal featuring Six Decorations bestowed upon the VLKSM Communist Youth organization and its emblem, late 1960-1980s. Standing over 12" in height and weighing 9 lb, this is truly a museum-quality piece. This unparalleled item can be a unique focus point for the most advanced Soviet collection - and a fine home decoration as well.
$2,200.00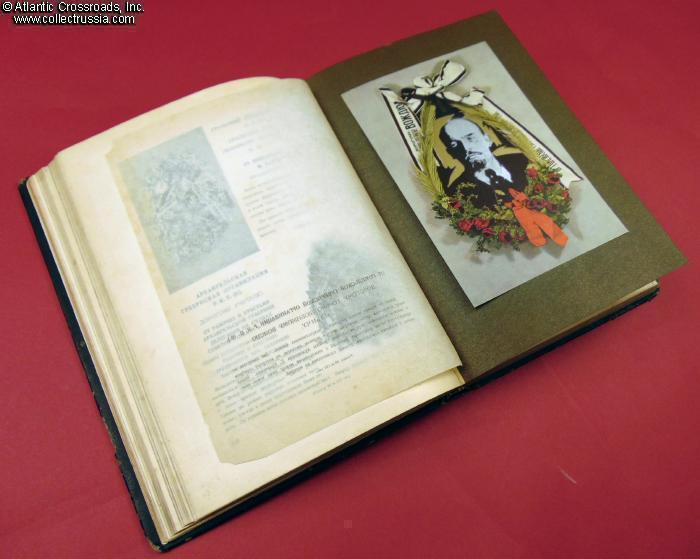 To Lenin, January 21, 1924; a unique publication which compiles hundreds of photos, reproductions and descriptions of wreaths, banners, flags, posters, boards etc. laid to Lenin's coffin as he laid in state. A rare find for a true collector!
Massive tome, 519 pp.
$950.00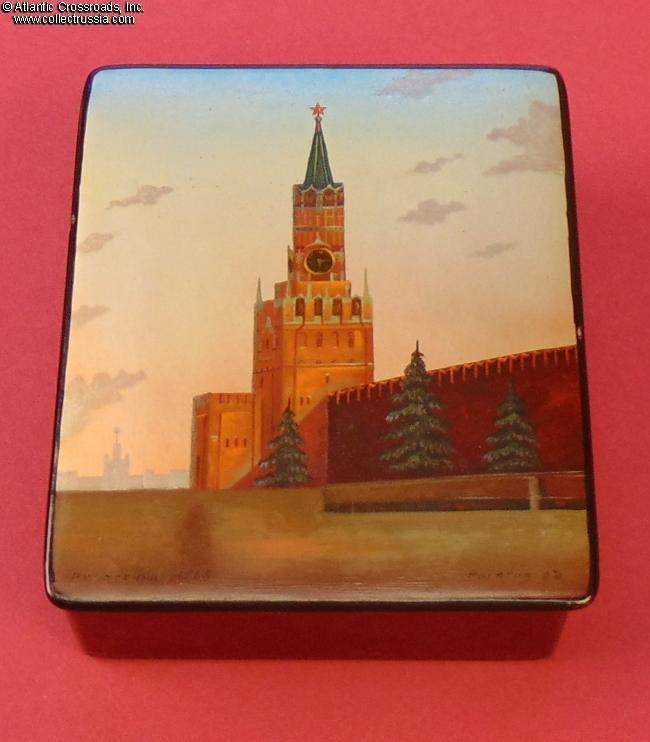 Lacquer Box with a view of Moscow Kremlin, by the Fedoskino artist V. P. Rogatov, signed and dated 1968. The image of the Spasskaya clock tower at dawn, a favorite subject of Soviet lacquer artists, is of stunning artistic quality - far above what we normally see on similar boxes. This hand-painted piece of Socialist Realism art is a true gem!
$350.00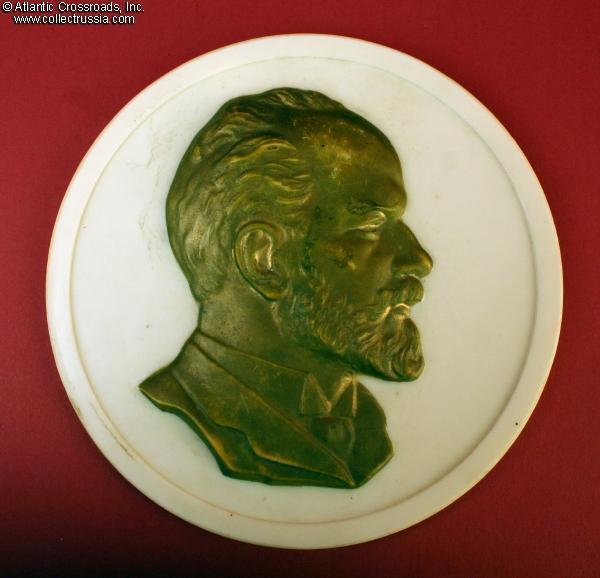 Award plaque with simulated bronze profile of Pyotr Ilyich Tchaikovsky, famous Russian composer of The Nutcracker, Swan Lake and The 1812 Overture.
$65.00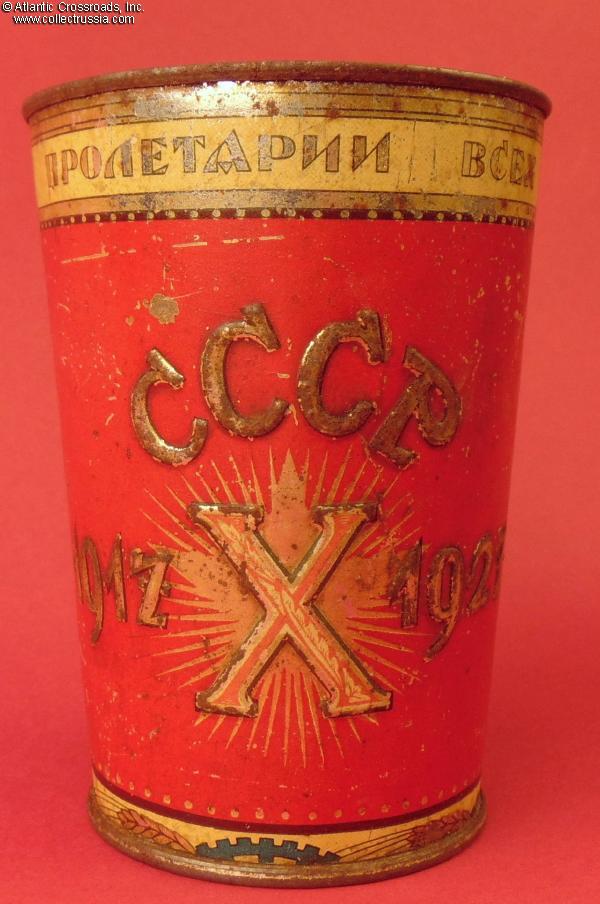 Goblet Commemorating the 10th Anniversary of the October Revolution, 1927. Lithographed and embossed tin. A vivid example of early Soviet propaganda art. In very good condition, among the best examples we have seen.
$375.00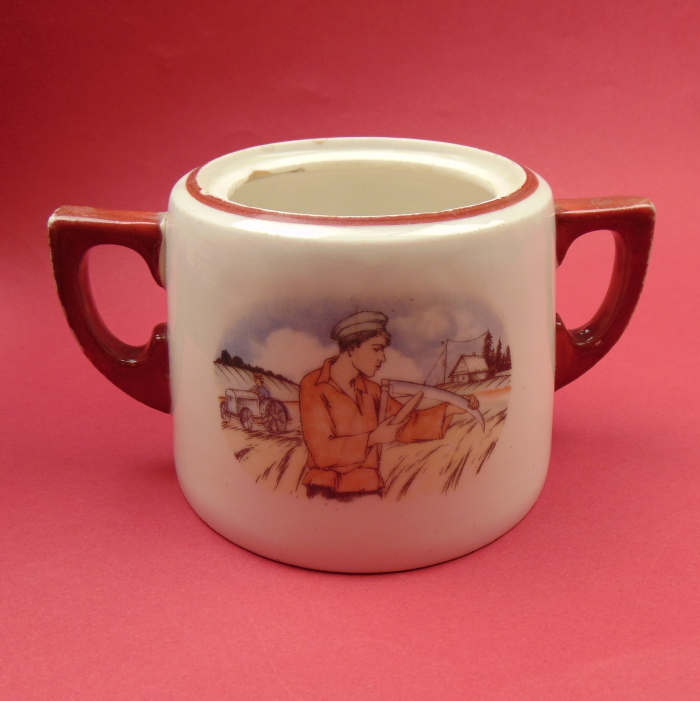 Sugar Bowl "Harvest", Dulevo Porcelain Factory, 1927-1930. Early issue with the rare "Newspaper Pravda Factory, Dulevo" maker mark. A superb piece of early Soviet propaganda porcelain from the collectivization period. Missing the lid, otherwise in very good condition.
$650.00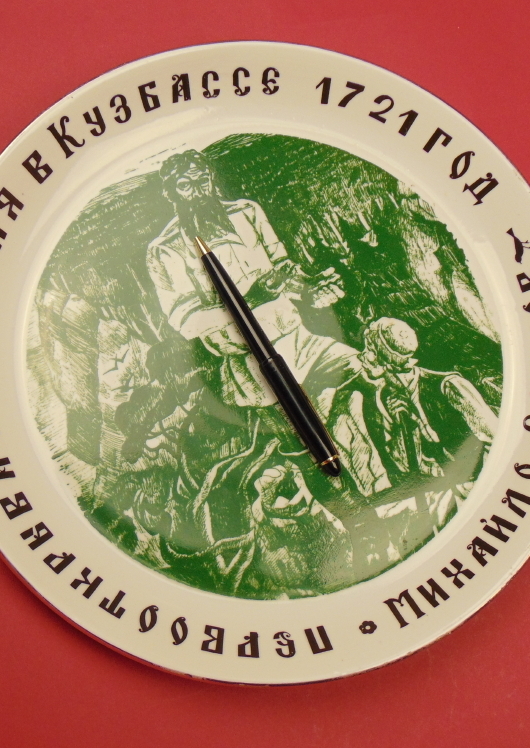 Large Decorative Porcelain Plate in Commemoration of Mikhailo Volkov, the discoverer of coal in the Kuznetsk Basin (Kuzbass), Siberia. A very unique and impressive 12"-piece by the uncommon Prokopyevskiy Porcelain Factory, circa late 1970s - late 80s. Excellent condition.
$240.00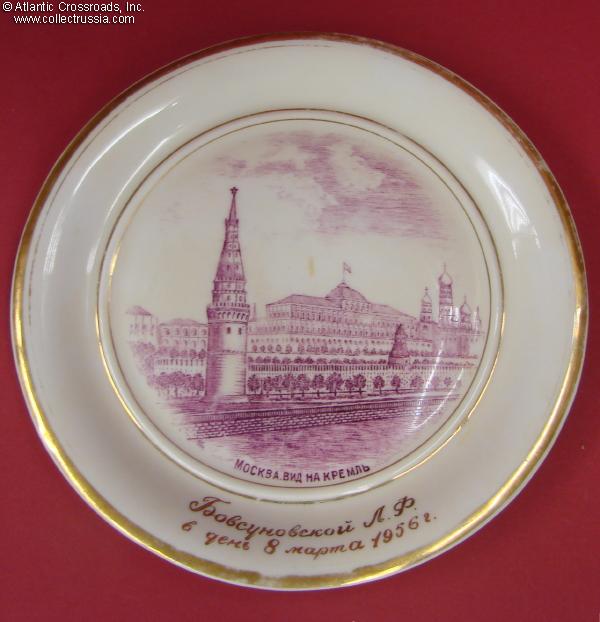 Porcelain Plate "Moscow, View of the Kremlin", Korosten Porcelain Factory, 1955-56 manufacture. Shows presentation inscription made on the International Women's Day of 8 March 1956. Very good condition.
$75.00