Soviet Tobacciana
*CLICK ON THUMBNAIL OR ITEM NAME TO VIEW FULL DESCRIPTION AND PHOTOS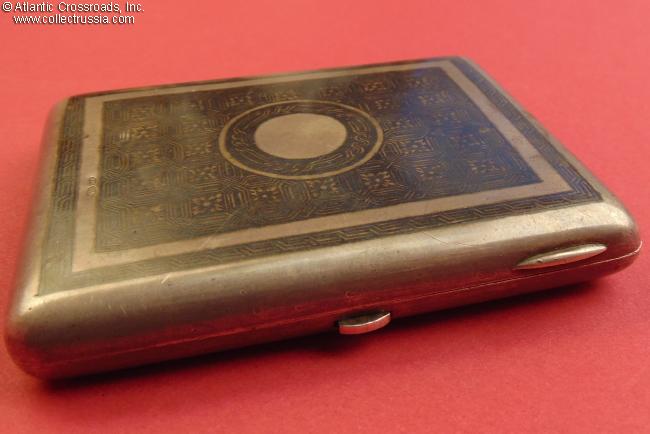 Cigarette Case in Hallmarked Silver with Niello Artwork, awarded in 1932 to an NKVD policeman for "selfless struggle against banditry." Shows hallmarks "YuKM" of an unknown workshop in Moscow. A very interesting and unusual piece in very good to excellent condition.
$475.00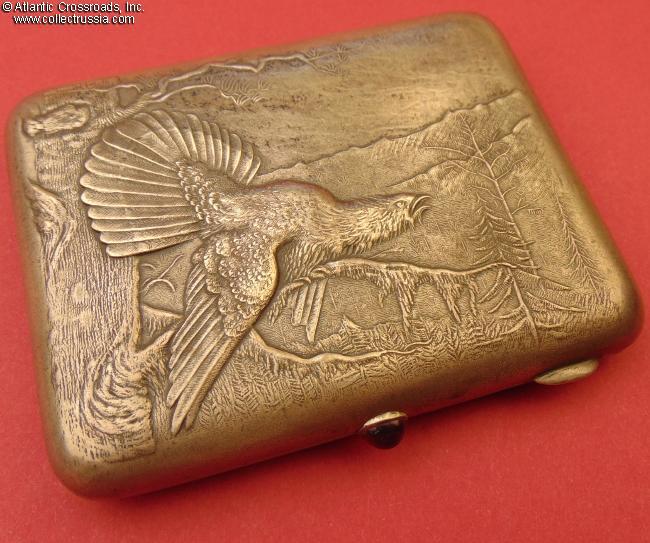 Silver cigarette case with Siberian woodland scene, 1954. Weighs a hefty 169 grams. Excellent condition.
$450.00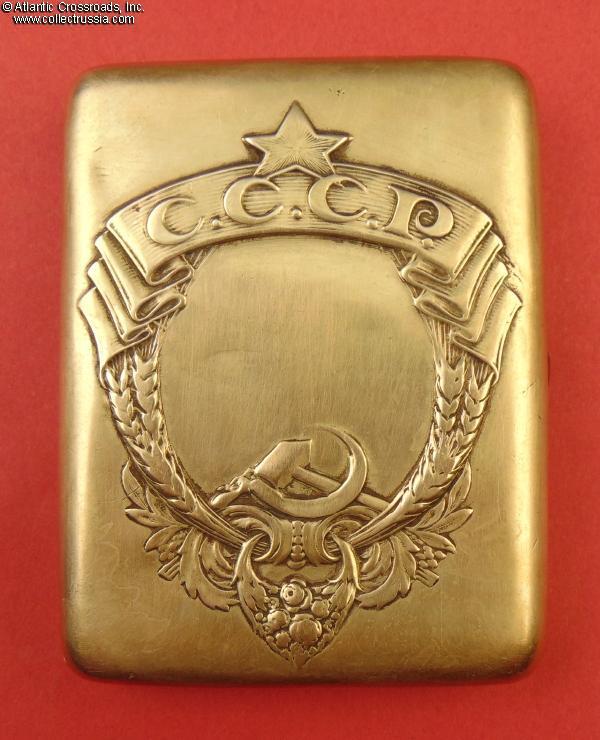 Cigarette Case in silver-plated brass with Soviet Patriotic Motif, circa late 1930s. Features very attractive artwork in distinctive pre-war style. Very good to excellent condition.
$170.00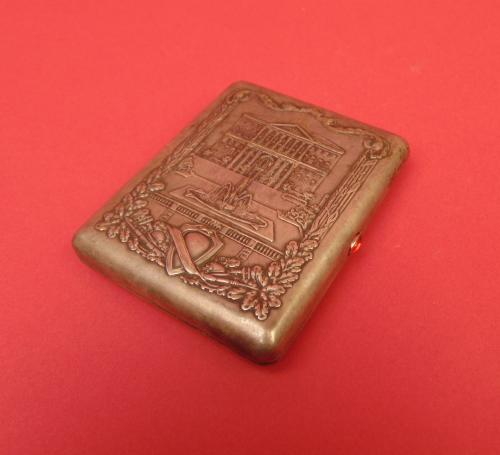 Silver-plated Cigarette Case featuring the Building of the Moscow City Council (Mossovet), circa 1950s. In excellent condition.
$90.00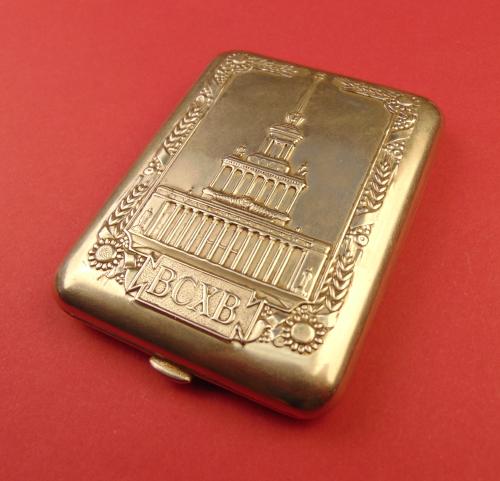 All-Union Agricultural Exhibition chromed steel cigarette case, circa 1950s, features a view of the main building of the famous VSKhV fairgrounds in Moscow (known as VDNKh since the late 50s). In outstanding condition.
$70.00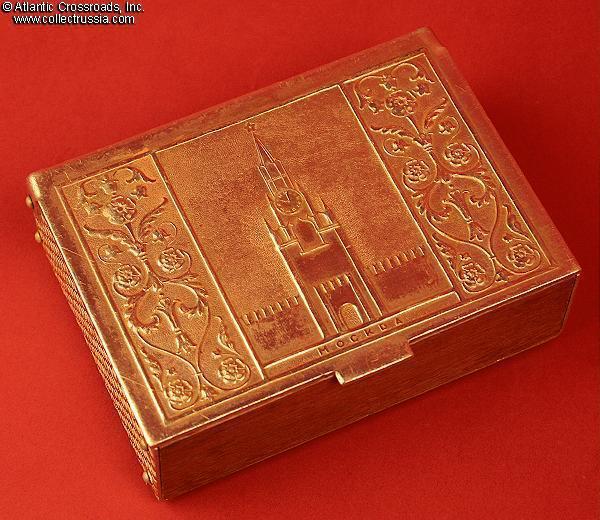 Moscow-themed Cigarette Box, birchwood and anodized aluminum, circa 1960, features a view of the Spasskaya tower framed by two panels that replicate medieval wall decorations in the older Kremlin palaces.
$60.00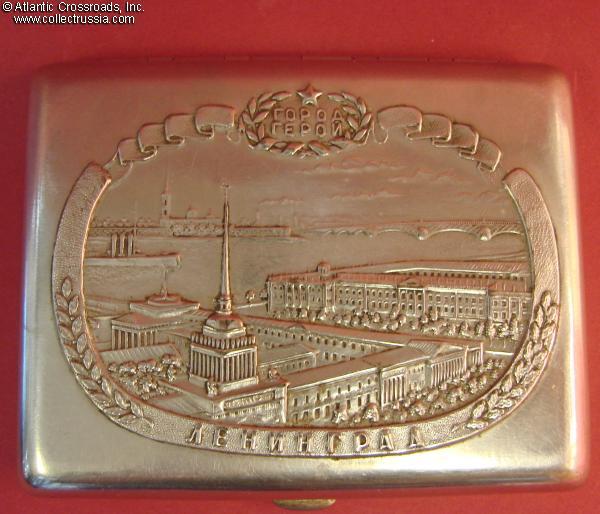 Leningrad Cigarette Case in chromed steel featuring bird's eye view of the Admiralty building, Cruiser Aurora and Peter and Paul Fortress. Nice and relatively uncommon piece form around 1960s, in excellent condition.
$55.00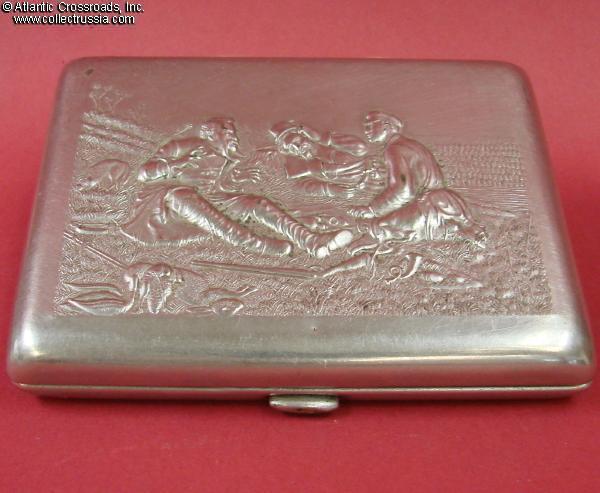 "Hunters at Rest," chromed cigarette case based on Vasily Perov's famous 1871 painting now in the State Tretyakov Gallery in Moscow. Reverse shows two wood grouse (or capercaillie) debating if they have anything to fear from the three hunters. In excellent condition.
$30.00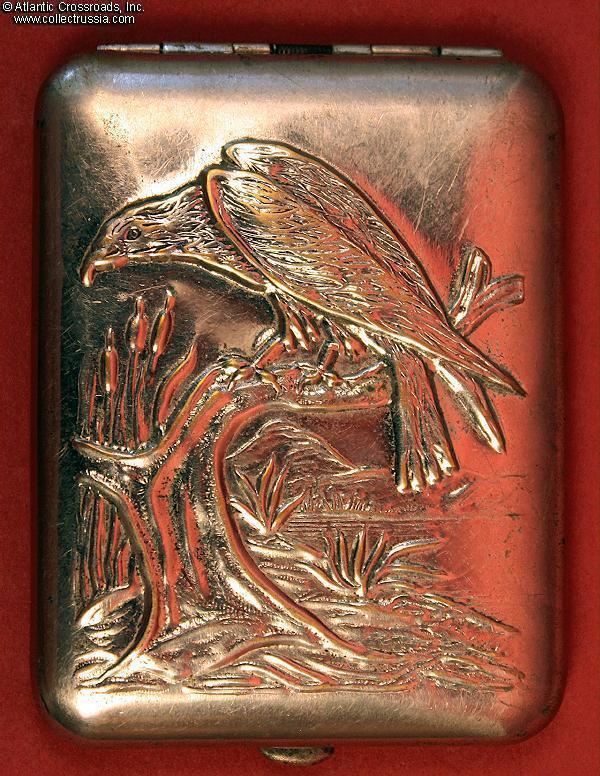 Cigarette case features a marshland bird perched on a lakeside tree stump, chromed steel circa 1950s/1960s. 4 1/4" x 3 1/4" x 5/8".
$65.00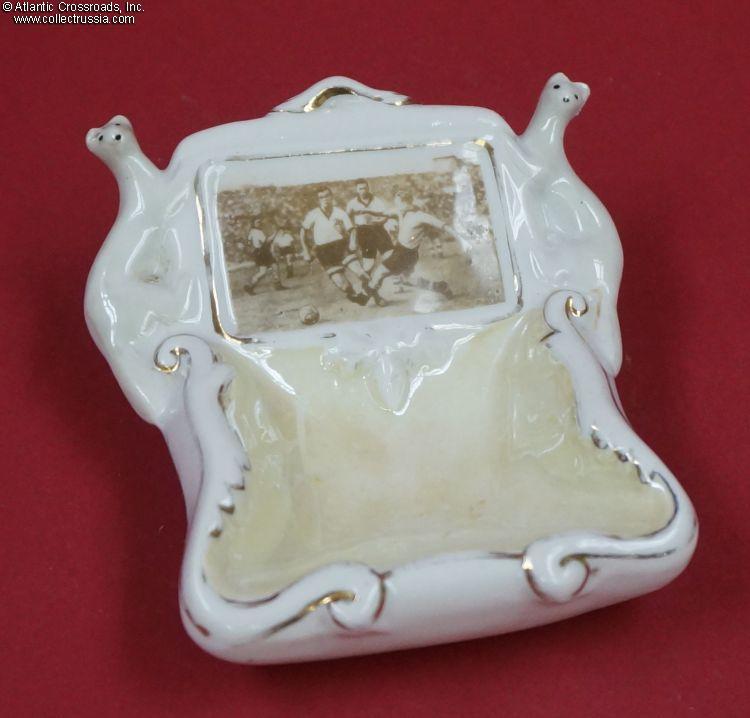 Porcelain Ashtray "Soccer", Dulevo Porcelain Factory, dated 1959. This extremely uncommon "Soviet Ambience" item from the period of the "Khrushchev Thaw" appears to be a throwback to much earlier era. In excellent condition.
$250.00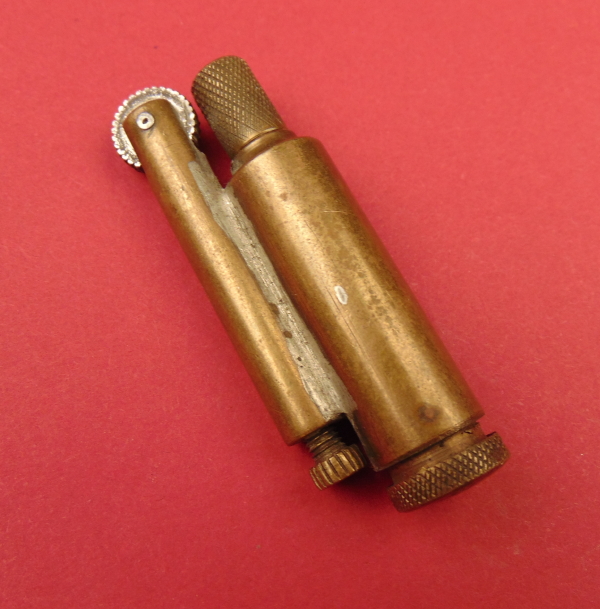 WW 2 "Trench Art" brass cigarette lighter.
$50.00