Imperial Russian Silver
*CLICK ON THUMBNAIL OR ITEM NAME TO VIEW FULL DESCRIPTION AND PHOTOS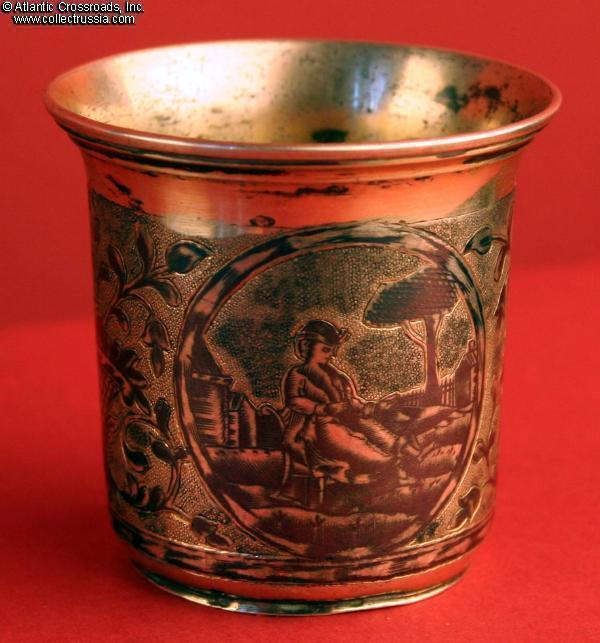 Large 1835 Moscow-made Sterling Silver Vodka Cup. Stunning example of niello work!
$640.00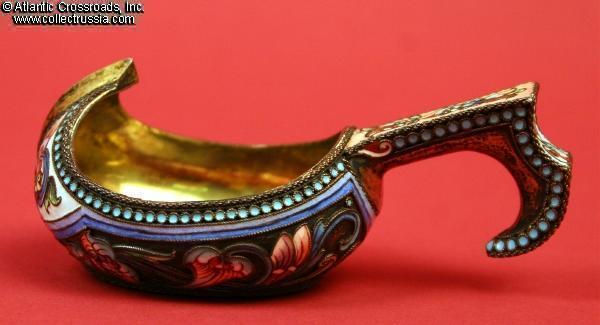 Moscow-made Silver Gilt Kovsh with exquisite Shaded Cloisonné Enamel, C 1899.
$1,600.00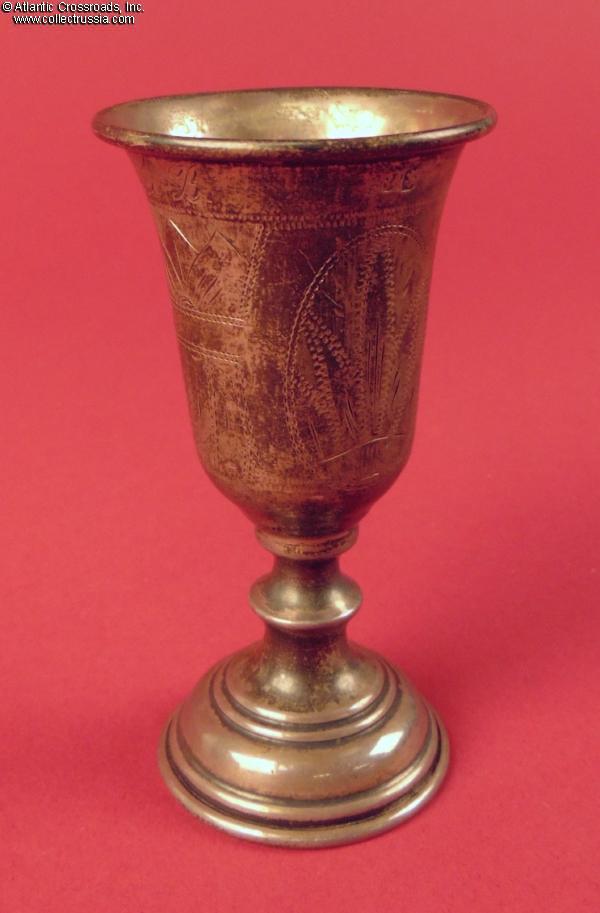 Silver Beaker on a Ring Foot, 3.5" tall, by a St. Petersburg maker, hallmarked "84" and dated 1882. Excellent condition.
$125.00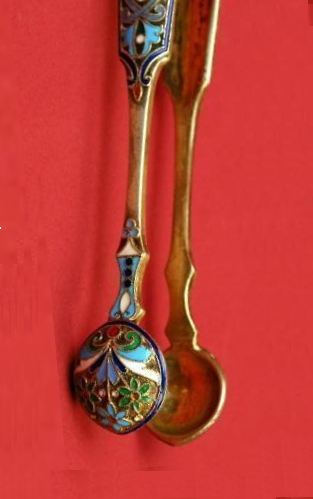 Pre-1908 Enameled Silver Gilt Sugar Tongs, Moscow-hallmarked for probable export to Great Britain.
$1,100.00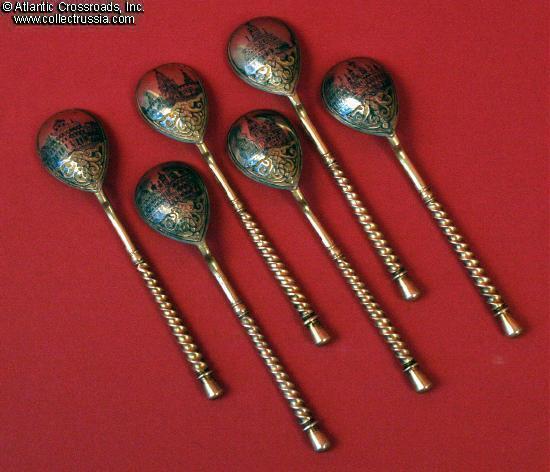 Set of six hallmarked Moscow demitasse spoons circa 1855 featuring niello views of the Kremlin and Red Square in the middle of the nineteenth century.
$750.00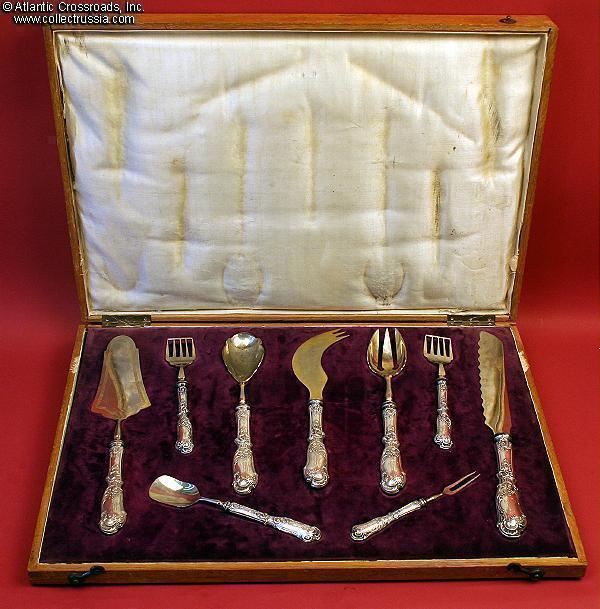 Late 19th Century, early 20th Century Silver Serving set in its original velvet and silk lined fitted wooden storage case. Complete selection of nine monogrammed sterling silver serving pieces for serving dessert or light refreshments.
$3,500.00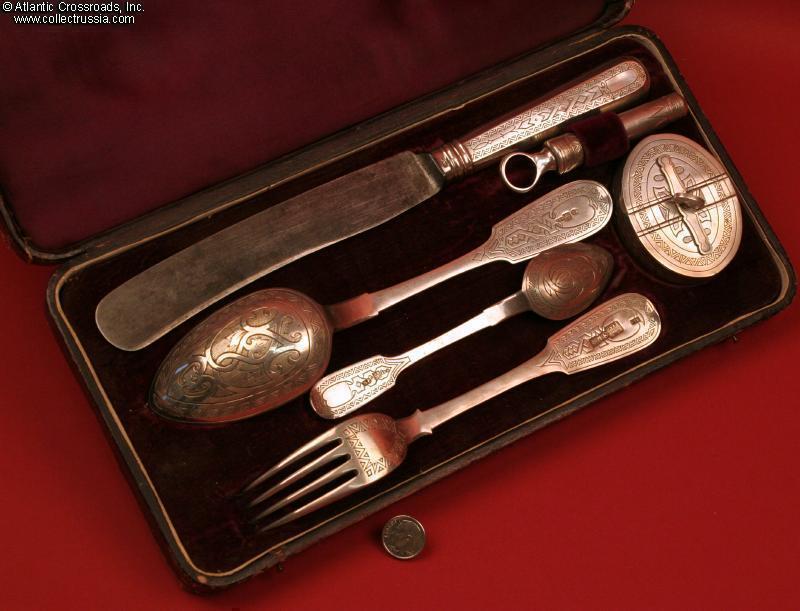 Unique 19th Century Gentleman's Sterling Silver Saint Petersburg-made Flatware Set in Original Monogrammed Traveling Case, still complete and ready to serve!
$2,700.00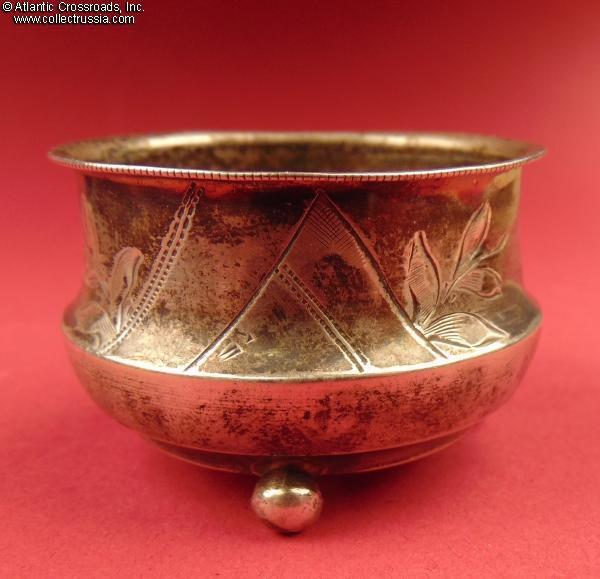 Salt Cellar in silver, by Artemiy Blokhin workshop in Kostroma, 1908 - 1917. Nicely hallmarked and engraved piece by an uncommon maker. Excellent condition.
$190.00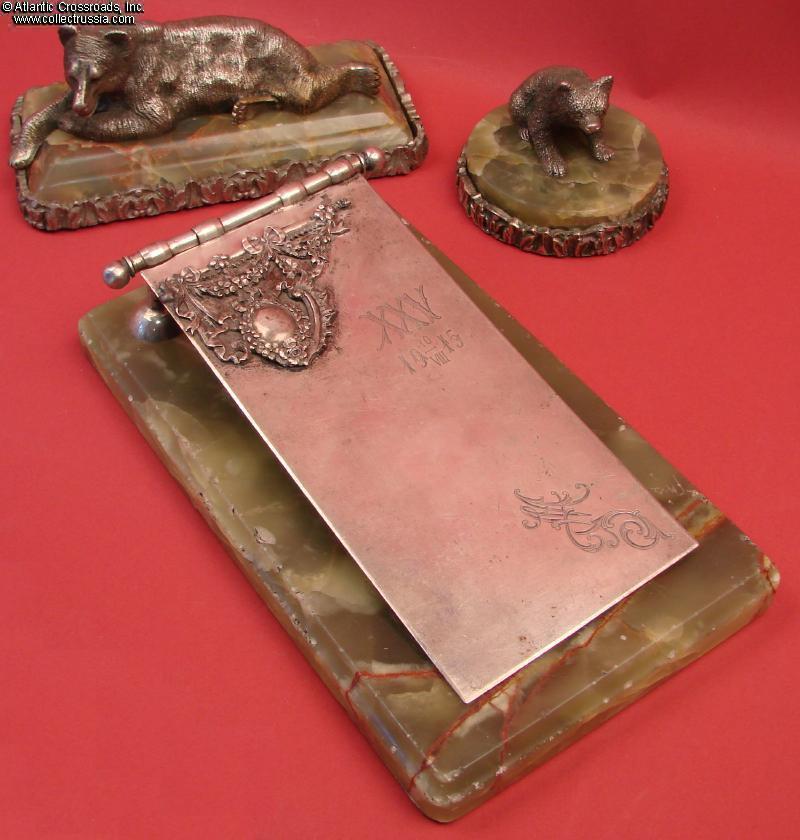 Antique Imperial Era St. Petersburg Desk Set Attractive and interesting desk set comprising a calendar holder and two paperweights mounted with sculpted bears.
$2,200.00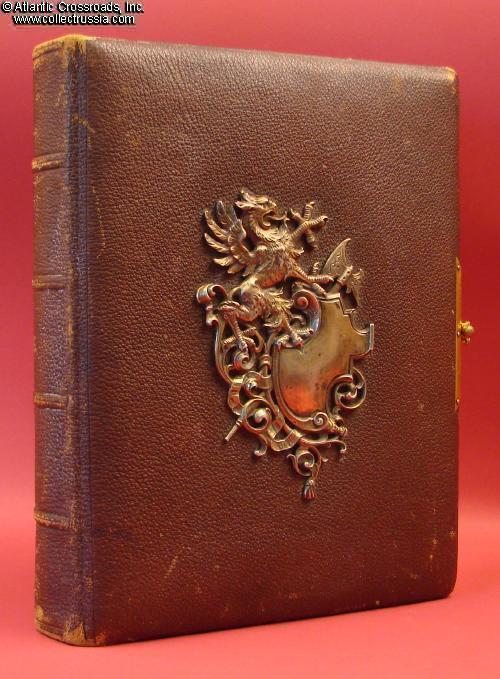 Antique Fabergé Portrait Album.
Attractive leather bound British-made portrait album with a hallmarked Fabergé silver plaque of a heraldic griffin mounted on the front cover. Excellent condition.
To view other Russian antiques from before the Revolution that may also feature silver components, please visit our "Imperial Russian Antiques" section.
$2,200.00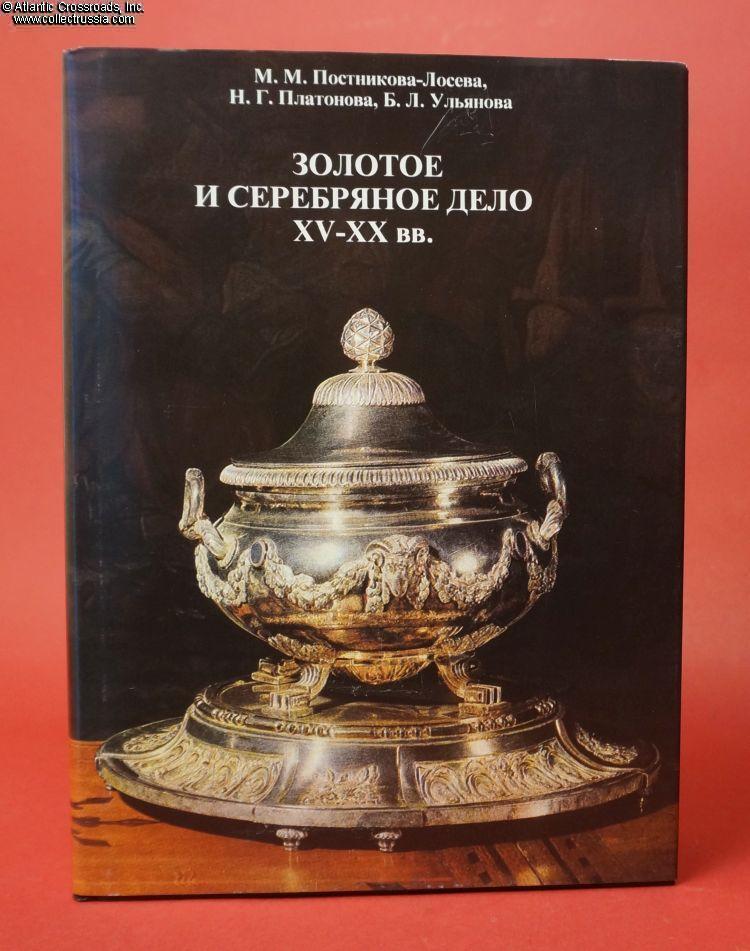 "Russian Gold and Silverwork from the 15th to 20th Century" by Postnikova-Loseva et al, C. 1995, Moscow. Russian text. Complete list of gold and silver hallmarks, cross referenced to date of manufacture with nearly 6,500 Imperial Russian hallmarks shown, identified, and dated. A SUPERB and invaluable reference!
$90.00