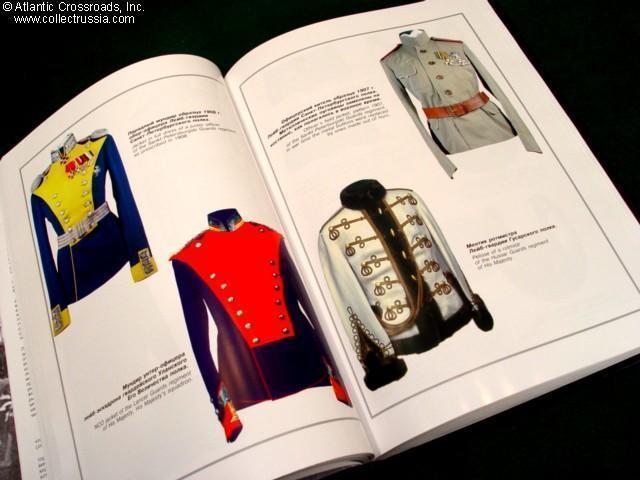 Contact CollectRussia
Atlantic Crossroads, Inc.
P.O. Box 144
Tenafly, NJ 07670
U.S.A.
Phone: 201.567.8717
24-hour FAX: 201.567.6855
Email:Sales@CollectRussia.com











Books on Imperial Russian Uniforms, Edged Weapons & Militaria
*CLICK ON THUMBNAIL OR ITEM NAME TO VIEW FULL DESCRIPTION AND PHOTOS
$55.00
The Russian Imperial Cavalry 1881-1917, Gerard Gorokhoff, 2008. Russian & English text and captions. 365 pages. Excellent and essential reference!


$75.00
Russian Officer Gorgets, G. Vvedenskiy. Part of the Encyclopedia of the Russian Army series, the book is dedicated to the gorget, - one of the less researched and ostensible items of a military uniform reaching back in its origin to knight armor of the Middle Ages. Luxury edition hard cover with large number of excellent illustrations and photos. Russian text.


$70.00
Russian Military Uniforms, XVIII to early XX C., Vladislav Glinka, Leningrad, 1988, 239 pp, large format hard cover with dust jacket. In Russian with brief summary and index of illustrations in English. Printed in East Germany, this Soviet era out of print publication is one of the better and most difficult books on Imperial Russian uniforms to locate. In excellent condition.


$110.00
His Majesty Life Guard Cossack Regiment,C. 2014, by Oleg Kulakov, Mikhail Sarychev. A magnificent large format coffee table hard cover illustrated with original artifacts and period photos from the collection of the regimental museums in France and Belgium. The book contains a captivating historical narrative of this illustrious Don Cossack unit which encompasses first years of exile following the Russian Civil War. Russian text.


$120.00
Guards Infantry, Officers and Generals, Dmitry Klochkov, C. 2012, Moscow. Subtitled "Uniforms, Equipment and Weapons of the Russian Imperial Army, 1914-1917" this is a second volume in the series on WWI Russian Army uniforms. Outstanding reference, every bit as good as Klochkov's first book on Guards Infantry Enlisted and NCO ranks.


$105.00
Guards Infantry, Lower Ranks, Dmitry Klochkov, C. 2011 Moscow. Subtitled "Uniforms, Equipment and Weapons of the Russian Imperial Army, 1914-1917" this massive book is a part of the amazing new series on Russian Army in WW1. This comprehensive reference guide is second to none!


$130.00
Guards Infantry, Special Detachments and Categories, and Separate Units, Dmitry Klochkov, C. 2013, Moscow. Subtitled "Uniforms, Equipment and Weapons of the Russian Imperial Army, 1914-1917" this is the third volume in the series on WWI Russian Army uniforms. Outstanding reference, every bit as good as Klochkov's first two books on Guards Infantry enlisted and officer ranks.


$90.00
Russian Naval Uniforms Dotsenko & Hetmanets, 2008 Hard laminated cover, Russian text, 428 pages, hundreds of photographs and illustrations.


$195.00
300 Years of the Russian Marine Infantry, Volume I (1705-1855) Kibovskii & Leonov, 2008. Russian text with English captions, 384 pages, hundreds of photographs and illustrations.


$14.00
The Russian Civil War (II) White Armies. Mikhail Kvostov, illustrated by Andrei Karachtchouk. C 1997. Osprey 'Men-at-Arms'. English language, illustrated with many period photos and a center section of color plates.


$15.00
The Russian Army 1914-1918. Showing a myriad of imperial army uniforms, includes non-Russian units. First rate illustrations. English text.


$50.00
Uniforms of the Russian Air Force, Volume 1 (1890 - 1935) . Russian with English captions. Outstanding photos and documentary information. A serious reference work for the serious Air Force collector.


$25.00
Award Watches of the Russian Imperial Army A.I. Vilkov. Russian text, hard cover, 111 pp. Full color photos of high quality engraved pocket watches awarded for excellence in the military up to 1914. Very nicely done book.


$55.00
Small Sword of Russian Civil Officers, by Evgeniy Boldyrev, C 2016. Russian text, 127 pp, hard cover. A great reference on previously poorly researched subject. Only 300 copies in print.


$175.00
History of Russian Naval Dagger Igor Sukhanov Massive, luxuriously published volume with large number of beautiful photos or dirks and accoutrements. In Russian with index in English.


$67.00
Russian Dirks, by Evgeniy Boldyrev, C. 2015, 207 pp, laminated hard cover, large 8 ½" x 11 ¾ " format. New, truly revolutionary reference catalog by the author of the highly acclaimed "Soviet Daggers". Massive amount of information on all types of Russian Imperial daggers is accompanied by high resolution photos of over 100 original examples as well as b/w period photos. Russian text, with main parts translated into English. Very highly recommended: this book is a "must have" reference for any collector of Russian edged weapons.


$220.00
Edged Weapons of the Kuban Cossacks, Boris Frolov, 2009, Krasnodar, 319 pp, Russian language, large format. Excellent and comprehensive full color photo reference of Cossack weaponry.


$99.00
Weapons of the Caucasus in Private Collections of Past and Present, C. 2011, Moscow; E. Neratova et al, h/c, Russian text. Stunning array of swords and kindjals from the temporary exhibition of Russian Ethnographic Museum in St. Petersburg. An excellent resource.


$30.00
Russian Knife. History, Maker Marks, and Identification of the Items by the Craftsmen of Pavlovo, 1830-1940, by Igor Zavorotko, C. 2013, Moscow. Large format h/c, Russian text. This reference guide contains literally hundreds of examples of hunting and pocket knives, as well as tableware produced in the traditional craft centers of Pavlovo, Vacha, and others. There are also hundreds of photos of trademarks and individual maker stamps. As is often the case, the scope of material covered in this catalog goes far beyond what its title would suggest. This is an invaluable resource for the collector of Russian and Soviet edged weapons.


$160.00
Highlights of the Weaponry Collection in the Central Naval Museum by Igor Sukhanov. Richly illustrated english language book on Naval Edged Weapons with a backdrop of Russian Naval history. A most extraordinary book of very high quality.


$10.00
Orthodox Religion, Army and Navy. St. Petersburg, C. 1996. Russian text. Exhibition catalog of interrelated military & religeous artifacts of the Imperial era. Excellent.


$15.00
Pinakoteka. Russian Imperial Awards and Militaria. Contains many large format color photos of exceptional quality Imperial military memorabilia in private collections. English table of contents.


$17.00
Zeughaus Issue #1, 2002. Extremely well illustrated and interesting periodical issue on Russian military history. Russian text. PLEASE SEE OTHER ISSUES IN OUR "MILITARIA PERIODICALS" SECTION.