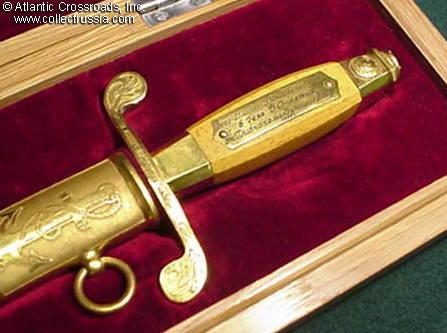 Contact CollectRussia
Atlantic Crossroads, Inc.
P.O. Box 144
Tenafly, NJ 07670
U.S.A.
Phone: 201.567.8717
24-hour FAX: 201.567.6855
Email:Sales@CollectRussia.com













Soviet Swords, Daggers & Bayonets
*CLICK ON THUMBNAIL OR ITEM NAME TO VIEW FULL DESCRIPTION AND PHOTOS
$945.00
Navy officer dagger with sheath, WW 2 type without a button, numbered, dated 1945. In extraordinary, excellent condition.

$490.00
Navy officer dress dagger with leather sheath, dated 1947. An extremely interesting early example, one of the first Soviet naval daggers with retaining button. In outstanding, excellent condition.

$375.00
Navy officer dress dagger with leather sheath, late version maker marked "Bulat", dated 1982. In excellent condition.

$450.00
Army officer dress dagger with leather sheath, dated 1955. Beautiful example of a less common dagger, in superb condition.

$695.00
Air Force officer dress dagger with leather sheath, dated 1952. Superb Stalin era piece in near mint condition - the best example we have seen in years, if not ever.

$995.00
Special Presentation Box for a Soviet award dagger, circa late 1950s through 1960s. A version in medium-toned hardwood, with the round button and simplified locking mechanism. A very scarce accessory made specifically for the official award daggers. Very good to excellent condition.

$1,990.00
M 1927 NKVD Cavalry Enlisted or NCO shashka, circa 1942-44 . Scarce sword with silver fittings unique to NKVD Mounted Troops and plain wartime pommel. Comes with original harness and correct Mosin-Nagant bayonet. In good condition.

$25.00
M 1891/30 Mosin-Nagant bayonet, 1930s manufacture. In EXCELLENT condition.

$30.00
Naval officer's full dress belt with dagger hangers, adjustable up to a 44" waist, circa 1970s-80s. Excellent, unissued condition.

$24.00
Army / Air Force officer full dress belt with dagger hangers, early to mid 1980s. Near mint condition.

$195.00
Cavalry sword harness in leather, circa 1930s. Essential for the correct display of a shashka on a manikin.

$350.00
NCO Cavalry shaska harness made in heavy canvas instead of leather, WW2 economy issue circa early to mid 1940s.

$160.00
"Russian Edged Weapons", by Alexander Kulinsky. St. Petersburg, C. 2005. Russian Text. 10 1/2" x 8" x 1 3/4". 5 lbs. 581 pages. Hard cover. Hundreds of beautiful, large format color photographs. The ultimate reference book on this subject.

$85.00
"Soviet Dirks", by Evgeniy Boldyrev et al, C. 2014, Russian and English text, 221 pp, large format laminated hard cover. A fantastic in- depth reference on Soviet daggers of all types and periods, with an incredible amount of factual information on years of manufacture, variations etc. The book also contains excellent information on dagger belts. This is going to be the ultimate reference source on the subject.