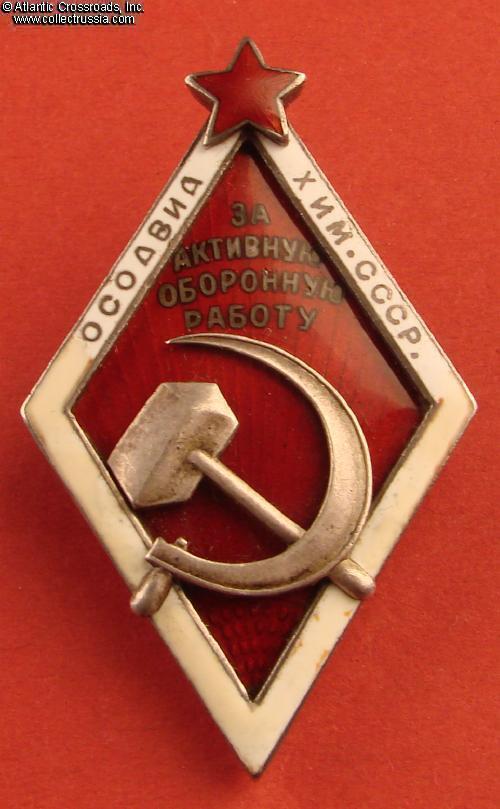 Contact CollectRussia
Atlantic Crossroads, Inc.
P.O. Box 144
Tenafly, NJ 07670
U.S.A.
Phone: 201.567.8717
24-hour FAX: 201.567.6855
Email:Sales@CollectRussia.com













Badges of OSOAVIAKhIM (Society to Support Aviation and Chemical Defense)
*CLICK ON THUMBNAIL OR ITEM NAME TO VIEW FULL DESCRIPTION AND PHOTOS
$850.00
Activist of the OSOAVIAKhIM badge, #3573, circa early 1930s. Hallmarked silver version in very fine condition, with nicely preserved enamel. Beautiful piece!

$380.00
Activist of the OSOAVIAKhIM badge, #27763, mid to late 1930s. In very fine condition.

$250.00
OSOAVIAKhIM membership badge, Type 2, 1941. The larger and by far the scarcer of the two versions of the membership badge. Produced for only less than half a year until the German invasion. In excellent condition, very uncommon for this badge.

$295.00
Voroshilov Horseman badge, variation with thin screw post, 1936-1941. In very fine to excellent condition, despite the re-threaded screw post. A very impressive and attractive early WW2 / pre-Patriotic War badge!

$295.00
To a Fighter of OKDVA, OSOAVIAKhIM issue, 1930. Essentially a campaign medal, awarded to servicemen of the Marshal Blyukher's Far Eastern army for successful campaign against Manchurian warlord in 1929. In very fine condition, better than the average for this badge.

$120.00
Parachute Jump badge, 1936 type, circa late 1940s through 1950s. In outstanding condition.

$650.00
Parachute Instructor badge, Type 2 (1941 Model), mid-1940s - mid-1950s. Very scarce and desirable WW2 type in excellent condition.