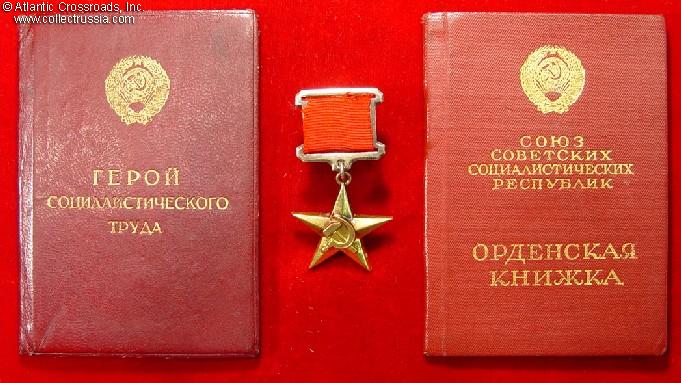 Contact CollectRussia
Atlantic Crossroads, Inc.
P.O. Box 144
Tenafly, NJ 07670
U.S.A.
Phone: 201.567.8717
24-hour FAX: 201.567.6855
Email:Sales@CollectRussia.com












Heroes of Socialist Labor
*CLICK ON THUMBNAIL OR ITEM NAME TO VIEW FULL DESCRIPTION AND PHOTOS
$2,200.00
Gold "Hammer and Sickle" Medal of a Hero of Socialist Labor, Type 2, Var. 3, #17052, circa early 1970s issue. An outstanding, excellent example.

$4,500.00
Documented group of a Hero of Socialist Labor agricultural worker, 1973 issue. Includes Gold "Hammer and Sickle" Medal, Order of Lenin issued with it, and two award documents: Order Booklet and Hero's Photo ID (aka "Small Certificate".) The recipient was a foreman of a collective farm in the Lugansk Region of Ukraine (currently a war zone in the disputed area between Ukraine and the Russian-backed separatist rebels.) Both the awards and documents are in outstanding condition.