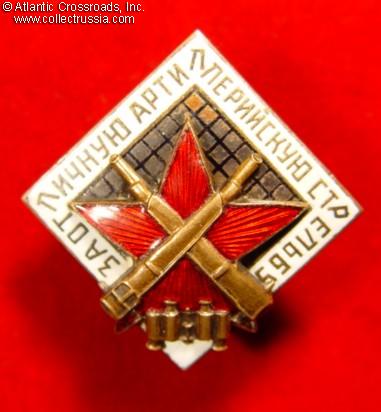 Contact CollectRussia
Atlantic Crossroads, Inc.
P.O. Box 144
Tenafly, NJ 07670
U.S.A.
Phone: 201.567.8717
24-hour FAX: 201.567.6855
Email:Sales@CollectRussia.com













Soviet Military Badges - Revolution to WW2
*CLICK ON THUMBNAIL OR ITEM NAME TO VIEW FULL DESCRIPTION AND PHOTOS
$1,400.00
Badge to a Hero of the Revolutionary Movement of 1917-1918, two-layered version in brass, 1932. In fine to very fine condition, better than the average.

$240.00
Photo ID of a Former Red Partisan, circa early 1930s. Issued to a former Red Partisan from Odessa region. In excellent condition, very uncommon for this type of document.

$950.00
Badge to an Honest Warrior of the Karelian Front, 1922. Scarce decoration of the Russian Civil War period, essentially the first Soviet campaign medal. The star is a replacement, but the badge is in otherwise excellent condition. Its overall state of preservation is outstanding for this early award.

$270.00
Sniper of RKKA (Red Army) badge, 1938 - 1942. A classic Soviet sniper's award of the early part of WW2. In very fine condition.

$875.00
Badge for Excellent Shooting for a Red Army Officer, circa mid-1920s. A superb piece.

$450.00
Badge for Excellent Shooting for Red Army Enlisted Personnel, early to mid 1920s. In excellent condition.

$390.00
Excellence in the Navy badge, Type 1 in silver, #2826, circa 1939. Mint marked "MD" to the reverse. Nice early WW2 naval award in very fine condition.

$395.00
Voroshilov Horseman badge, variation with thin screw post, 1936-1941. In very fine to excellent condition, despite the re-threaded screw post. A very impressive and attractive early WW2 / pre-Patriotic War badge!

$350.00
Badge to a Fighter of OKDVA, OSOAVIAKhIM issue, 1930. In fine overall condition, with partly restored enamel but extremely well preserved details. Includes original screw plate.

$570.00
Naval Air Force Engineers School graduate, 1944 type, 1944-1954 issue. In very fine to excellent condition, much better than the average for this badge.

$1,300.00
Military Navigators School, graduation badge, 1938-1941. Extremely attractive badge in very fine overall condition.