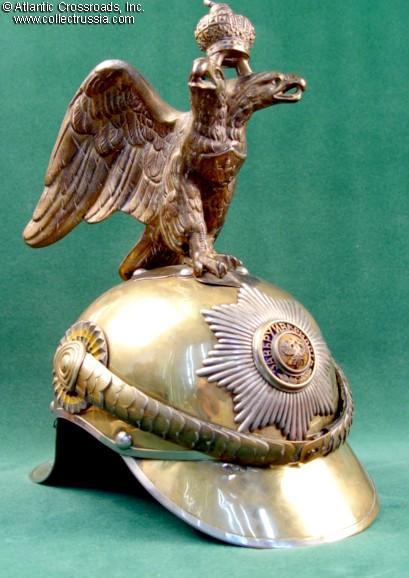 Contact CollectRussia
Atlantic Crossroads, Inc.
P.O. Box 144
Tenafly, NJ 07670
U.S.A.
Phone: 201.567.8717
24-hour FAX: 201.567.6855
Email:Sales@CollectRussia.com













Imperial Russian Militaria
*CLICK ON THUMBNAIL OR ITEM NAME TO VIEW FULL DESCRIPTION AND PHOTOS
$9,950.00
Massive Battlefield Trophy of Russo-Turkish War of 1877-1878, from battle of Avliyar. Silver hallmarks throughout.

$250.00
Double-Headed Eagle Hat Badge for a Military Fur Cap, featuring Coat of Arms of Grand Duchy of Finland, Russian Empire, circa early 1900s - 1917. A very uncommon piece in excellent condition.

$90.00
Shoulder Board of a Captain, Guards or Regular Army Unit, circa 1890s-1917. In good overall condition.

$450.00
Shoulder Boards of a Captain, 2nd cl., Russian Imperial Navy, circa 1910s. Four-sided type for wearing on a long coat (syurtuk). A rare matching pair in very good to excellent condition.

$445.00
Distinction Scroll for a Dress Hat or Shako awarded for the Russo-Japanese War, 1905-1917. Shows three separate battles in which the unit distinguished itself: August 1914 at Liaoyang, September 1904 at Benspkhu (the latter location is a direct transliteration from Russian), and during a series of engagements throughout February 1905. A very uncommon insignia of a serviceman of one of most illustrious Russian units. In excellent condition.

$70.00
Russian Imperial Department of Establishments of Empress Maria bronze gilt collar tab device, circa 1900.

$60.00
M 1907 army enlisted man hat badge, 40 mm. Variation with vertically oriented prongs. In excellent condition.

$45.00
M 1907 army enlisted man hat badge, 29 mm version. Features smaller overall size and less domed form than other variations. Well-made piece in excellent condition.

$45.00
M 1907 NCO or officer cadet (Yunker) hat badge.

$75.00
M 1907 army enlisted man hat badge, 39 mm. Less domed form and larger black center circle. Horizontally oriented attachment prongs. In very good to excellent condition.

$120.00
Imperial Russian Army Officer Cap Badge, circa 1900-1917. In very good to excellent condition, with nicely preserved silver finish and both original prongs intact. A relatively hard to find item from the era of the Russo-Japanese War or the Great War.

$170.00
Hat badge of State Militia Units, Reign of Alexander III, Type 2, 1890- 1895. In very fine to excellent condition. Includes three original attachment loops.

$45.00
Medium size gold button for an army officer tunic, 1860s through 1917, excellent condition.

$35.00
Large size gold button for army officer greatcoat or a cape, 1860s through 1917.

$22.00
Button for a tunic, probably of an employee of the office of public prosecutor or related law enforcement agency.

$14.00
Cuff button for a tunic of an attorney, prosecutor or Justice Department officer

$195.00
Brass buckle for Grenadier unit enlisted man belt, circa 1900s .

$110.00
Brass buckle for army enlisted artilleryman's belt, shows Romanov eagle and crossed cannons. Standard issue from c. 1900 through the mid-1910s.

$175.00
Rifle ammunition pouch for the field, in khaki canvas, 1910s. A remarkable survivor of the Great War and probably the Russian Civil War, too. Many inventory markings.

$240.00
Russian enlisted cavalryman from the Life Guard Cavalry Regiment, Large format hand colored lithograph, circa 1855. Superb image in very fine condition, nice colors. To find a selection of other fine Russian Imperial military prints, please visit our "Imperial Russian Posters, Lithographs and Books" section.