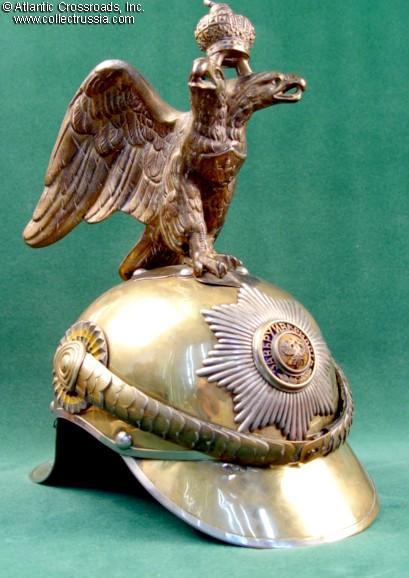 Contact CollectRussia
Atlantic Crossroads, Inc.
P.O. Box 144
Tenafly, NJ 07670
U.S.A.
Phone: 201.567.8717
24-hour FAX: 201.567.6855
Email:Sales@CollectRussia.com













Imperial Russian Militaria
*CLICK ON THUMBNAIL OR ITEM NAME TO VIEW FULL DESCRIPTION AND PHOTOS
$9,500.00
M 1910 Full Dress Kiver Shako of a Senior Staff Officer or Adjutant, Imperial Guards Cavalry, 1910-1917. This exceptionally rare, amazingly complete and nicely preserved piece can be pride of ever the most advanced collection of Imperial Russian militaria.

$9,950.00
Massive Battlefield Trophy of Russo-Turkish War of 1877-1878, from battle of Avliyar. Silver hallmarks throughout.

$250.00
Cabinet Portrait of a Military Doctor in an Inscribed Imperial Russo-Turkish War-era brass Presentation frame mounted with a Russian imperial crown; contains excellent photograph of a Russian military physician clearly showing his awards.

$120.00
Badge of a Mounted Reconnaissance Scout, 1st cl. in white metal, 1891-1917. The screw post is a replacement, otherwise extremely well preserved.

$125.00
Russian Imperial Department of Establishments of Empress Maria bronze gilt collar tab device, circa 1900.

$60.00
M 1907 army enlisted man hat badge, 40 mm. Variation with vertically oriented prongs. In excellent condition.

$45.00
M 1907 NCO or officer cadet (Yunker) hat badge.

$75.00
M 1907 army enlisted man hat badge, 39 mm. Less domed form and larger black center circle. Horizontally oriented attachment prongs. In very good to excellent condition.

$45.00
M 1907 army enlisted man hat badge, 29 mm version. Features smaller overall size and less domed form than other variations. Well-made piece in excellent condition.

$45.00
Medium size gold button for an army officer tunic, 1860s through 1917, excellent condition.

$35.00
Large size gold button for army officer greatcoat or a cape, 1860s through 1917.

$22.00
Button for a tunic, probably of an employee of the office of public prosecutor or related law enforcement agency.

$14.00
Cuff button for a tunic of an attorney, prosecutor or Justice Department officer

$195.00
Brass buckle for Grenadier unit enlisted man belt, circa 1900s .

$110.00
Brass buckle for army enlisted artilleryman's belt, shows Romanov eagle and crossed cannons. Standard issue from c. 1900 through the mid-1910s.

$150.00
Rifle ammunition pouch for the field, in khaki canvas, 1910s. A remarkable survivor of the Great War and probably the Russian Civil War, too. Many inventory markings.

$190.00
Aluminum canteen, dated 1905. . Maker marked and shows Imperial double-headed warrant, in very good condition. A scarce piece of military equipment from the Russo-Japanese War period.

$240.00
Russian enlisted cavalryman from the Life Guard Cavalry Regiment, Large format hand colored lithograph, circa 1855. Superb image in very fine condition, nice colors. To find a selection of other fine Russian Imperial military prints, please visit our "Imperial Russian Posters, Lithographs and Books" section.

$180.00
"Weapons (Small Arms and Edged Weapons) of the Russian Navy", by Igor Sukhanov. Massive size 335 pp hard cover with dj, Russian text. This beautiful coffee table publication encompasses all periods in history of the Russian Imperial Navy, from Peter the Great through WW1. The book is literally chockfull of high resolution photos of Russian naval pistols, dirks, cutlasses, boarding axes etc.