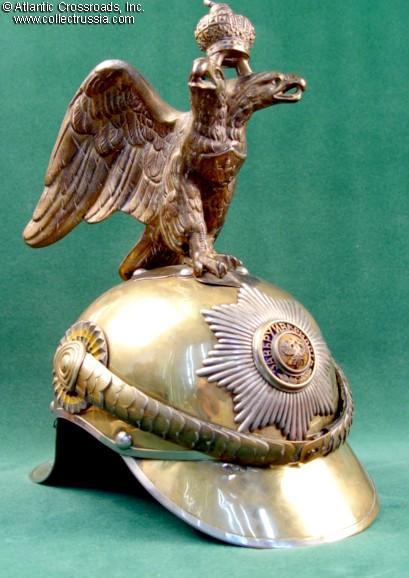 Contact CollectRussia
Atlantic Crossroads, Inc.
P.O. Box 144
Tenafly, NJ 07670
U.S.A.
Phone: 201.567.8717
24-hour FAX: 201.567.6855
Email:Sales@CollectRussia.com













Imperial Russian Militaria
*CLICK ON THUMBNAIL OR ITEM NAME TO VIEW FULL DESCRIPTION AND PHOTOS
$12,500.00
Full Dress Shako Kiver Hat of a Corps of Engineers General, circa early 1900s. A superb piece in magnificent condition.

$9,950.00
Massive Battlefield Trophy of Russo-Turkish War of 1877-1878, from battle of Avliyar. Silver hallmarks throughout.

$1,800.00
M 1915 Adrian Helmet as worn by Russian Troops on the Western Front in WW1 and later by the troops of the White Army in the Russian Civil War. Excellent condition, impossible to upgrade!

$650.00
M 1915 Adrian Helmet made in France for the Russian Troops on the Western Front in WW1. Helmets of this type were later used in the Russian Civil War, especially by the White Army troops in the late period of the war. The liner and chin strap are missing and the rivets holding the comb have been replaced, but the shell itself is in great condition and the original hat badge is included. A nice display and conversation piece!

$350.00
Cabinet Portrait of a Military Doctor in an Inscribed Imperial Russo-Turkish War-era brass Presentation frame mounted with a Russian imperial crown; contains excellent photograph of a Russian military physician clearly showing his awards.

$120.00
Badge of a Mounted Reconnaissance Scout, 1st cl. in white metal, 1891-1917. The screw post is a replacement, otherwise extremely well preserved.

$1,300.00
Epaulette of the Russian Imperial Palace Police, circa 1890s- 1917. An exceptionally rare detail of the uniform used by the special police force protecting the Tsar, his immediate family, and members of the Imperial court, essentially the Russian version of the Secret Service. Unaltered piece in superb condition.

$1,350.00
Shoulder Boards of a Sr. Lieutenant (Poruchik) of the Empress Alexandra Fyodorovna Crimean Horse Regiment, 1909- 1917. A nicely preserved matching pair of a cavalry officer shoulder boards. Complete with the original cyphers of Empress Alexandra (wife of Nicholas II), crowns, rank stars, and buttons.

$120.00
Russian Imperial postal or telegraph employee collar tab device, 1870s through 1917.

$125.00
Russian Imperial Department of Establishments of Empress Maria bronze gilt collar tab device, circa 1900.

$45.00
M 1907 army enlisted man hat badge, less domed form and smaller than other variations. Well made.

$45.00
M 1907 NCO or officer cadet (Yunker) hat badge.

$65.00
M 1907 army enlisted man hat badge, 40 mm. Variation with vertically oriented prongs. In excellent condition.

$190.00
"Закавказская железная дорога" Imperial Russian railwayman's cap badge, circa 1870s-1880s to 1917, worn by officials and trainmen in the territory of Georgia.

$45.00
Medium size gold button for an army officer tunic, 1860s through 1917, excellent condition.

$27.00
Medium size button for an army officer tunic, 1860s through 1917

$35.00
Large size gold button for army officer greatcoat or a cape, 1860s through 1917.

$22.00
Button for a tunic, probably of an employee of the office of public prosecutor or related law enforcement agency.

$14.00
Cuff button for a tunic of an attorney, prosecutor or Justice Department officer

$195.00
Brass buckle for Grenadier unit enlisted man belt, circa 1900s .

$110.00
Brass buckle for army enlisted artilleryman's belt, shows Romanov eagle and crossed cannons. Standard issue from c. 1900 through the mid-1910s.

$150.00
Rifle ammunition pouch for the field, in khaki canvas, 1910s. A remarkable survivor of the Great War and probably the Russian Civil War, too. Many inventory markings.

$190.00
Aluminum canteen, dated 1905. . Maker marked and shows Imperial double-headed warrant, in very good condition. A scarce piece of military equipment from the Russo-Japanese War period.

$240.00
Russian enlisted cavalryman from the Life Guard Cavalry Regiment, Large format hand colored lithograph, circa 1855. Superb image in very fine condition, nice colors. To find a selection of other fine Russian Imperial military prints, please visit our "Imperial Russian Posters, Lithographs and Books" section.

$180.00
"Weapons (Small Arms and Edged Weapons) of the Russian Navy", by Igor Sukhanov. Massive size 335 pp hard cover with dj, Russian text. This beautiful coffee table publication encompasses all periods in history of the Russian Imperial Navy, from Peter the Great through WW1. The book is literally chockfull of high resolution photos of Russian naval pistols, dirks, cutlasses, boarding axes etc.