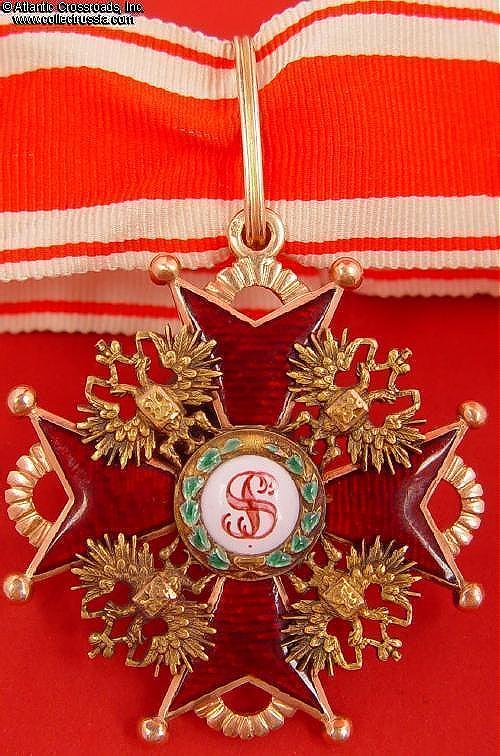 Contact CollectRussia
Atlantic Crossroads, Inc.
P.O. Box 144
Tenafly, NJ 07670
U.S.A.
Phone: 201.567.8717
24-hour FAX: 201.567.6855
Email:Sales@CollectRussia.com













Russian Imperial ORDERS
*CLICK ON THUMBNAIL OR ITEM NAME TO VIEW FULL DESCRIPTION AND PHOTOS
$16,500.00
Group of Six Decorations and Badges including an Order of St. George 4th cl. in gold. Attributed to a General in the Russian Imperial Army, a hero of the Russo-Japanese War and WW1 who fought against the Bolsheviks in the Russian Civil War and immigrated to China after the defeat of the Kolchak's White Army in Siberia. An exceptional and rare historic group.

$1,450.00
Order of St. Anne, Civil Division, 3rd cl. breast badge, in hallmarked gold, by Albert Keibel, 1882-1899. A very elegant, extremely early AK piece. In excellent condition and includes connecting loop in gold.

$6,200.00
Order of St. Stanislaus, Civil Division, 1st cl. sash badge in gold, 62.5 mm, by Albert Keibel, 1899-1903. In outstanding condition. A magnificent and striking turn of the century piece! Comes with a piece of original sash ribbon.

$2,400.00
Order of St Stanislaus, Civil Division, 1st cl. Breast Star, in silver, 1910-1915. A very distinctive high domed piece by Eduard with added character: converted to wear with screw back attachment.

$12,500.00
Order of St. Stanislaus, 2nd cl. neck badge for NON- CHRISTIANS, Civil Division, in gold, by Albert Keibel, 1899- 1903. Exceptionally rare piece with a double headed eagle instead of the usual St. Stanislaus cipher. Shows "AK" maker mark, 56 "Kokoshnik" gold hallmark and Imperial warrant. In excellent condition.

$2,995.00
Order of St. Stanislaus, Military Division (with swords), 2nd cl neck badge with original gold loop; by Albert Keibel, 1899- 1903. The swords are added but appear to be of the period. In excellent condition.

$190.00
Actual 9 January 1918 Conveyance Document for Russian Order Insignia authorizing bestowal on five French military Officers [four generals and one Commandant (Major)]: a St. Alexander Nevsky with Swords, a White Eagle with Swords, a St. Anne 1st Class with Swords, and a St. Vladimir 4th Class with Swords).

$265.00
Two exceedingly unusual 1917 Provisional Government Award Documents for Order of St. Anne 2nd Class w/Swords to a French Army officer for bravery on the Western Front.