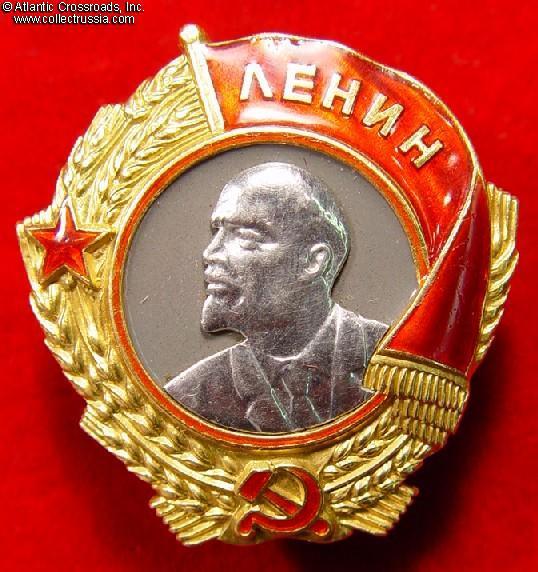 Contact CollectRussia
Atlantic Crossroads, Inc.
P.O. Box 144
Tenafly, NJ 07670
U.S.A.
Phone: 201.567.8717
24-hour FAX: 201.567.6855
Email:Sales@CollectRussia.com













Order of Lenin
*CLICK ON THUMBNAIL OR ITEM NAME TO VIEW FULL DESCRIPTION AND PHOTOS
$6,500.00
Order of Lenin, Type 4, Variation 1 (Durov Type III, Variation 1, Sub- variation 1), #3254, circa early 1937. Scarce version with double-tire screw post base, in very fine condition.

$5,600.00
Order of Lenin, Type 4, Var. 2 ("Monetnyi Dvor" screw back), #10153, circa late 1942 issue. A very fine piece never converted to suspension, and with relatively well preserved enamel.

$14,500.00
Order of Lenin, Type 4, Var. 2 (screw back version), #13094, with award document, awarded in February 1943 to a junior artillery officer in the Chuikov's 62nd Army for the Battle of Stalingrad. Throughout the defensive period of the battle, he exemplified heroism of the Soviet soldier at Stalingrad - and survived against enormous odds. Nominated for the Title of Hero of the Soviet Union, he received the Order of Lenin as a downgrade, and was also awarded with an Order of the Red Banner earlier during the Battle of Stalingrad. A story of this incredible warrior is conveyed by Antony Beevor in his famous book Stalingrad: The Fateful Siege, 1942-1943. The order is in fine to very fine condition, never converted to suspension and generally an attractive piece despite some damage to enamel. Comes with archival research.

$2,200.00
Order of Lenin, Type 5, Var. 2 (Durov Type IV, Variation 1, Sub-Variation 2), #26269, circa early- to mid-1945. Scarce wartime version without the "dimple" on the reverse. In very fine to excellent condition.

$1,640.00
Order of Lenin, Type 6, Var.1 (Leningrad Mint issue with stamped number below the rivets), #262734, circa 1954. Contains over a Troy ounce of 23 K gold and platinum. In very fine to excellent condition, with some scratches to the reverse but essentially perfect obverse.

$1,950.00
Documented Group of 3 decorations including Orders of Lenin, Red Banner and Red Star, and WW2 award document (order booklet.) During the last year of the war, the recipient had the rank of Captain and served as deputy commander / acting chief of staff of a mobile repair base with the armored troops of the 28th Army. In this capacity, he distinguished himself during the offensives in East Prussia. The Order of Lenin is a post-war issue in very fine condition; the two other orders are in very fine / excellent condition.

$45.00
"Order of Lenin. Order of Stalin (Project)", Valeriy Durov. C. 2005, Moscow. Large format Russian language hard cover, 143 pp, fine quality. Color detail photographs, front and back, of all known variations, as well as detailed history of the award. Outstanding reference guide to the highest Soviet decoration.