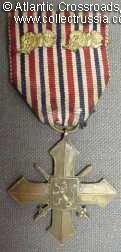 Contact CollectRussia
Atlantic Crossroads, Inc.
P.O. Box 144
Tenafly, NJ 07670
U.S.A.
Phone: 201.567.8717
24-hour FAX: 201.567.6855
Email:Sales@CollectRussia.com












Medals of Communist Czechoslovakia
*CLICK ON THUMBNAIL OR ITEM NAME TO VIEW FULL DESCRIPTION AND PHOTOS
$150.00
Medal for Strengthening Combat Cooperation, 2nd cl., with a document to a Soviet citizen, 1970 issue.


$40.00
Medal in Commemoration of the 20th Anniversary of Slovak National Uprising of 1944. In excellent condition.


$85.00
Slovak Airborne Partisan Unit Vpred (Forward), veteran's badge, circa 1960s-70s.


$45.00
Ninth Corps Sign of Honor Badge, awarded to those who tended wounded fighters during the 1944 revolts against the Germans.


$50.00
Badge in Commemoration of the 30th Anniversary of State Security of Czechoslovakia, 1975 issue. In excellent condition.