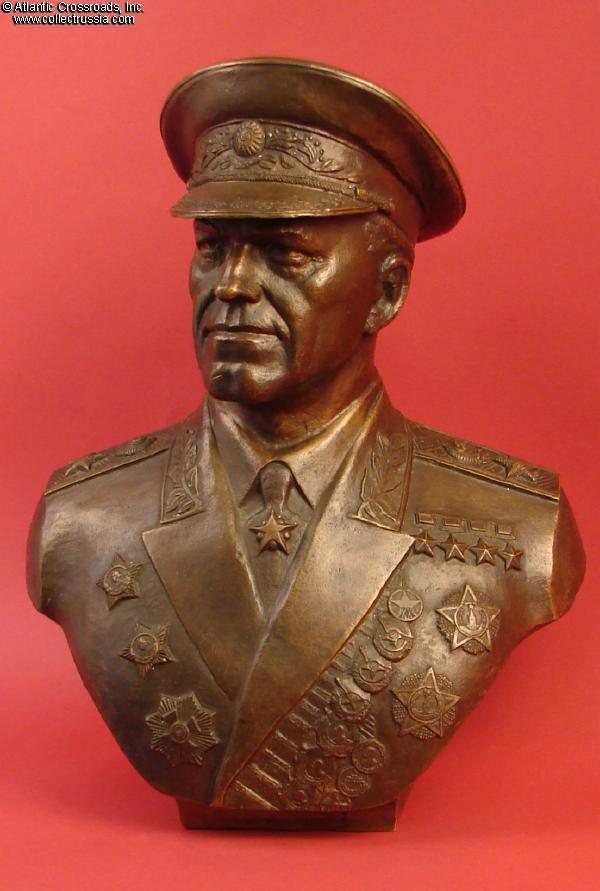 Contact CollectRussia
Atlantic Crossroads, Inc.
P.O. Box 144
Tenafly, NJ 07670
U.S.A.
Phone: 201.567.8717
24-hour FAX: 201.567.6855
Email:Sales@CollectRussia.com













Portraits, Sculptures & Photos of Soviet Military Leaders
*CLICK ON THUMBNAIL OR ITEM NAME TO VIEW FULL DESCRIPTION AND PHOTOS
$1,900.00
Magnificent Equestrian Sculpture, in bronze on marble depicting Marshal Kliment Voroshilov as a Red Army cavalry leader saluting his troops at the apex of his career. An exceptional work of Soviet statuary suited for the most advanced collection.

$220.00
Cast Bronze Statue of Vasiliy Ivanovich Chapayev, iconic Red cavalryman of the Russian Civil War. Very nice action pose on horseback. An impressive 10 ½ " long, piece of circa 1950s-60s vintage.

$170.00
Bust of Feliks Dzerzhinsky, founder of Cheka (future KGB), dated 1984. A less common image by sculptor Teplov showing the architect of the "Red Terror" wearing military style visor cap with a star. In excellent condition. To see other busts and sculptures of Dzerzhinsky, visit the Soviet Statuettes & Busts in Metal , section of our website.

$125.00
Mikhial Frunze, bust in Silumin alloy with 1973 presentation engraving to a school by a group of students.

$145.00
General Sidor Kovpak, an uncommon bust in Silumin alloy of the famous partisan leader wearing parade uniform and full regalia. 5 ½" in height, perfect for a bookshelf or a desk top.

$90.00
Marshal Voroshilov, bust in Silumin alloy with silver finish, dated 1979. Wearing an M 1935 Marshal's uniform and medals. For more Soviet statuettes & busts, please visit the Soviet Statuettes & Busts in Metal , section of our website.

$750.00
Stalin's Bust in glazed porcelain by the famous Lomonosovskiy Porcelain Factory in Leningrad (LFZ), mid 1940s - mid 1950s. By the renowned sculptors Ingal and Bagolyubov, famous for their portraits of both Stalin and Lenin. In outstanding condition.

$85.00
Round wall-plaque with sculptured profile of Stalin, late 1940s through mid 1950s. Shows Stalin in Generalissimo uniform with Gold Star "Hammer and Sickle" award.

$30.00
Lieut. Gen. Mikhail Efremov, commander of Transcaucasian Military District, 1940. Uncommon portrait. Chose suicide over capture in 1942.