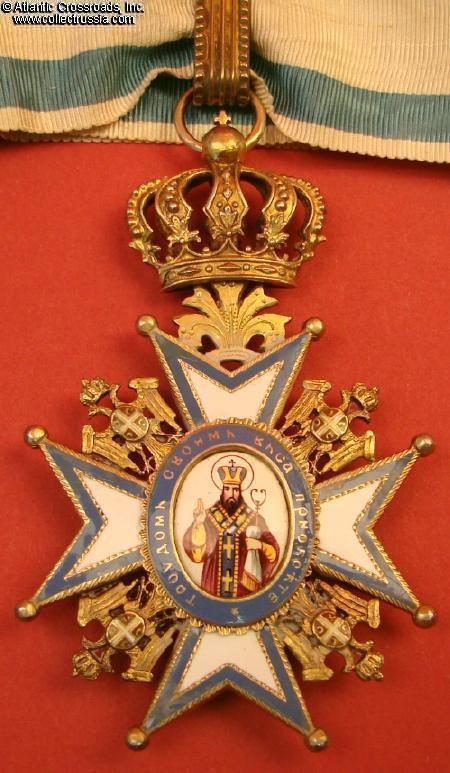 Contact CollectRussia
Atlantic Crossroads, Inc.
P.O. Box 144
Tenafly, NJ 07670
U.S.A.
Phone: 201.567.8717
24-hour FAX: 201.567.6855
Email:Sales@CollectRussia.com













European Orders and Medals, pre-WW2 ERA
*CLICK ON THUMBNAIL OR ITEM NAME TO VIEW FULL DESCRIPTION AND PHOTOS
$320.00
Austria-Hungary, Red Cross Order of Merit, 2nd cl. with War Wreath, with original case of issue, 1914-1919 issue. In very fine condition. The box is nicely marked.

$550.00
Bulgaria, Order of the Incentive to Humanity, 3rd (4th) Cl. on Lady's Bow, 1916-1944. The badge is the equivalent of 4th class for men, but it was considered a 3rd class when worn by women on a bow. A very rare piece, one of 85 ever awarded. In excellent condition.

$645.00
Montenegro, Order of Prince Danilo I, 4th class breast badge, 1873-1915. In very fine condition.

$140.00
Prussian Red Cross Service Medal, #1289, 1914-1918. In excellent condition.

$350.00
Romania, Order of the Romanian Crown, 3rd cl. badge, Type 1, by Karl Fischmeister, Vienna, 1881 through circa 1910s. In hallmarked silver and enamels. Very fine condition.

$780.00
Serbia, Order of St. Sava, 3rd cl. badge, Type 2 (the Saint wearing red robe), by an Austrian maker, 1904-1921. Nicely maker marked and hallmarked. In excellent condition and includes original neck ribbon.

$840.00
Spain, Order of Isabella the Catholic, Grand Cross Sash Badge in gold, circa 1930s. Comes with a period sash. Good to fine condition.