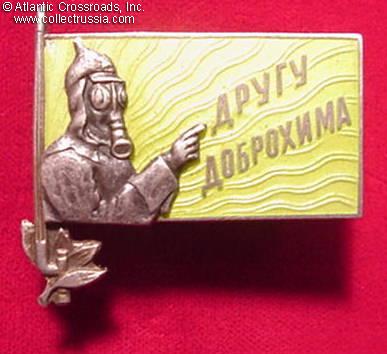 Contact CollectRussia
Atlantic Crossroads, Inc.
P.O. Box 144
Tenafly, NJ 07670
U.S.A.
Phone: 201.567.8717
24-hour FAX: 201.567.6855
Email:Sales@CollectRussia.com













Brave New World, 1920s-1930s
*CLICK ON THUMBNAIL OR ITEM NAME TO VIEW FULL DESCRIPTION AND PHOTOS
$850.00
Membership Badge of the Detkomissiya (Children Agency) at the Central Executive Committee of the USSR, early to mid 1920s.

$290.00
Brigadmil Voluntary Police Support Unit badge, 1930s. Fine to very fine overall condition.

$90.00
MOPR (International Organization to Help Revolutionary Fighters) membership badge, 1922-48.

$390.00
ODD (Friend of Children Society), membership badge, 1924 - 1935. Screw back version in outstanding condition.

$545.00
Trade Union of Transportation Workers, membership badge, Type 2, circa mid 1920s. Excellent condition.

$420.00
Trade Union of Employees of Communication Industry, membership badge, late 1930s. Very fine to excellent condition.

$995.00
Trade Union of Publishing Industry Workers, membership badge, Type 1 in hallmarked silver and enamels. This 1920s piece combines striking "revolutionary" design and superb quality.

$350.00
Trade Union of Higher and Vocational Education, membership badge, Type 3 (miniature version), circa late 1920s - early 30s. Very fine to excellent condition.

$1,950.00
Badge to a Veteran Production Worker, Central Wire Communications Laboratory, 1931. In hallmarked silver and enamels, with presentation engraving on the reverse. Beautiful and very complex early award for completing the assignment of the First Five Year Plan in three years.

$140.00
Jetton to a Best Shock Worker, awarded to a timber factory worker in May 1933. A typically early design with oversized pendant suspended on chains from a small screw back device featuring early Soviet state emblem. Engraved presentation on the reverse.

$430.00
Stalin Campaign for the Bolshevik Sowing and High Harvest, award badge, early to mid 1930s. Very fine condition.

$1,195.00
Badge to a Shock Worker of the XVII Congress of VKP(b), Stalinskiy District, 1934. Magnetic steel, silver plating, enamels.

$450.00
Down with Illiteracy Society, membership or donation badge dedicated to the 10th Anniversary of the October Revolution, 1926 through mid 1927 issue. In hallmarked silver.

$340.00
Society of the Cultural Linking of Town and Village, membership badge, mid to late 1920s. In fair to good condition.

$260.00
Participant's badge of the All-Union VTsSPS Olympiad (Contest) of Amateur Performance Arts, Moscow, 1932.

$475.00
Badge for 20th Anniversary of the Soviet Cinematography, #317, circa 1940. Very nicely made piece in silver and enamels, mint marked. In outstanding condition.

$250.00
Early Intourist Guide Badge in bronze and enamel, circa 1929 through early 1930s.

$95.00
Moscow Intourist Guide Badge in bronze and enamel, dated 1934. In excellent condition.

$1,950.00
RSFSR International Sports Tournament of July 1920, Jeton for Winning a First Prize. One of the very first Soviet awards or badges of any kind, issued at the time when Lenin was alive and the Civil War was still raging. The striking "revolutionary" design of this piece is very characteristic of its era.

$330.00
First Spartakiada (Sports Competition)of VTsPS , participant's badge, 1932. In excellent condition and includes original screw plate.