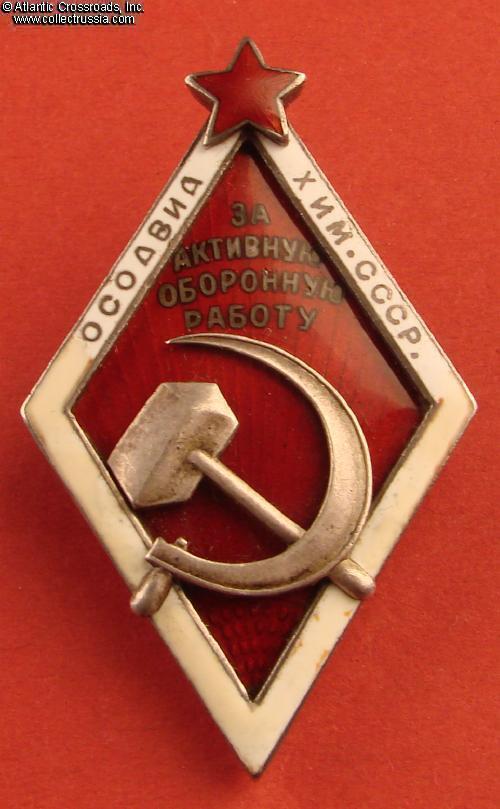 Contact CollectRussia
Atlantic Crossroads, Inc.
P.O. Box 144
Tenafly, NJ 07670
U.S.A.
Phone: 201.567.8717
24-hour FAX: 201.567.6855
Email:Sales@CollectRussia.com













Badges of OSOAVIAKhIM (Society to Support Aviation and Chemical Defense)
*CLICK ON THUMBNAIL OR ITEM NAME TO VIEW FULL DESCRIPTION AND PHOTOS
$850.00
Activist of the OSOAVIAKhIM badge, #3573, circa early 1930s. Hallmarked silver version in very fine condition, with nicely preserved enamel. Beautiful piece!

$380.00
Activist of the OSOAVIAKhIM badge, #27763, mid to late 1930s. In very fine condition.

$250.00
OSOAVIAKhIM membership badge, Type 2, 1941. The larger and by far the scarcer of the two versions of the membership badge. Produced for only less than half a year until the German invasion. In excellent condition, very uncommon for this badge.

$295.00
Voroshilov Horseman badge, variation with thin screw post, 1936-1941. In very fine to excellent condition, despite the re-threaded screw post. A very impressive and attractive early WW2 / pre-Patriotic War badge!

$120.00
Parachute Jump badge, 1936 type, circa late 1940s through 1950s. In outstanding condition.

$650.00
Parachute Instructor badge, Type 2 (1941 Model), mid-1940s - mid-1950s. Very scarce and desirable WW2 type in excellent condition.